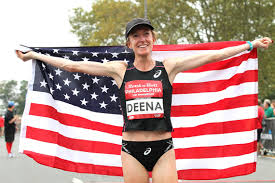 Legend. Icon. Trailblazer. Olympic Medalist. All are apt descriptions of Deena Kastor and all come from her incredible career as one of the world's finest distance runners.
Deena holds the American Record in the marathon at 2:19:36 – still the only American woman to run sub-2:20. She also holds the American Records for 10 Miles, 15K and 8K.  She won the bronze medal in the marathon at the 2004 Olympics in Athens. She's a two-time silver medalist at the World Cross Country Championships.  And she absolutely dominated the U.S. championships at 10,000 Meters (track) and cross country in the early to mid-2000s.
What set Deena apart and brought her to the pinnacle of the sport was the discovery of the power of the mind. Her newly released book "Let Your Mind Run" is an in-depth look into how she cultivated the positive mindset that allowed her to achieve incredible success in road running, track & field and cross country.
We're so excited that Deena will be appearing at the 2018 Missoula Marathon. The current schedule for her time in Missoula includes:
Friday, July 13
Noon – Book Signing/Meet & Greet at Runner's Edge (304 N. Higgins)
5:00 PM – Appearance at Run Wild Missoula Merchandise Booth at Runner Expo
6:00 PM – Missoula Marathon Beer Run
Saturday, July 14
8:00 AM – Handing out finisher medals at Missoula 5K
10:00 AM – Handing out finisher medals at Missoula Kids Marathon
Noon – Public presentation at DoubleTree By Hilton (100 Madison Street)
Sunday, July 15
8:00 AM – Handing out finisher medals at Missoula Marathon & Half Marathon