Missoula Marathon
Featured Guest: Slow AF Run Club
June 23-24 at the Runner's Expo
The Missoula Marathon is beyond thrilled to have Martinus Evans join us for our race in 2023! Martinus will be at the Runner's Expo Friday and Saturday to meet, inspire, sign, books, and sell merchandise. He will also be participating in some of the weekends races so participants will get a chance to run with him!  
Martinus Evans' journey is one of incredible transformation and resilience. Originally from Detroit, MI, he witnessed shootouts, drug deals, and murders from his bedroom window. Amidst these challenges, he also lost an athletic scholarship and failed out of college. Despite these setbacks, he rose above his circumstances and became an exceptional force for positive change.
Martinus is an 8-time marathon runner, author, and award-winning speaker who empowers people to embrace the body they have right now, lace up their shoes, and MOVE. His passion led him to found the Slow AF Run Club, a global community of over 10,000 members who are challenging the preconceived notions of what a runner should look like. His mission is to inspire one million people of all backgrounds, shapes, sizes, colors, and creeds to start running.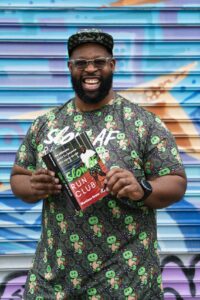 In 2012, Martinus began his own running journey and launched his blog, 300 Pounds and Running, after his doctor told him that he was fat and needed to lose weight or die. Despite the doctor's laughter at his marathon goal, Martinus remained determined to transform his life. His story has since been featured in The New York Times, LADBible, the New York Post, Huffington Post, Insider, The Wall Street Journal, and a cover feature on Runner's World in January 2022.
Using his experience, Martinus challenges the conventional narrative of what a runner looks like in his new book, Slow AF Run Club: The Ultimate Guide for Anyone Who Wants to Run (release date: June 6, 2023). With a BS in Exercise Science from Central Michigan University, an MS in Health Promotion Sciences, and a Graduate Certificate in Health Promotion and Health Education, Martinus has also earned a MA in Digital Media and Design from the University of Connecticut. Additionally, he serves as a board member of The Council on Black Health and November Project.
Martinus currently lives in Brooklyn, NY. When he's not running races around the world, he enjoys DJing and listening to music, watching movies with his wife Char, and beating her at UNO. He also loves playing fetch with his rescue dog Mabel.
About the Book: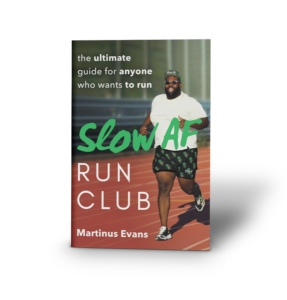 Slow AF Run Club: The Ultimate Guide for Anyone Who Wants to Run
is for those who may not fit the image of a "traditional" runner. It's a how-to guide aimed at helping those at the "back of the pack" feel empowered to lace up their running shoes and get moving in their body as-is.
Slow AF contains specialized advice for slow runners from someone who started his running journey by falling off a treadmill (literally). Martinus Evans has been through it all–and has the cautionary tales to prove it.

It's a book designed to make getting started less intimidating, covering everything from the gear you need as a beginner and simple nutrition to training schedules, recovery tips, finding a group, and running races (including why it's okay to come in dead f*cking last).
Part blueprint, part workbook, and part hard-truth and humorous memoir, Slow AF is here to help you on every step of your journey, from jogging your first block to your first finish line and beyond.
Join The Slow AF Run Club
300 Pounds and Running
"Gorgeous scenery aside (it's beautiful!), this race is incredibly well organized: plenty of generously-stocked aid stations, easy parking near the busses, great finish line, & awesome pre-race expo. The cherry on top, though, was the level of community support. Along almost the entire course were local people cheering you along... And once we got into town, almost every neighborhood had their own refreshment tables offering you fun items (some of the noteworthy things were: Scandinavian fish, fireball shots, sodas…). The runners felt truly welcomed by the community…"
– J.M. from Hawaii