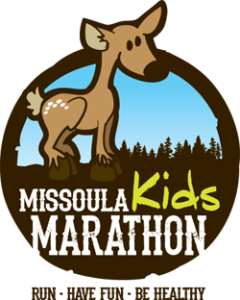 Date:  Saturday, July 12th, 2014
Start Time:  10am
Location:  Caras Park Pavilion, adjacent to the Higgins Avenue Bridge and along the Clark Fork River in downtown Missoula.  Click here to view Course Map.
Cost:  $10*
Finishing a marathon is child's play with the MISSOULA KIDS MARATHON- a logging marathon and a one-mile fun run for children in grades K-6. This non-competitive, non-timed event is about having fun and making it to the finish line.
Participants can become full marathon finishers by completing a 25 mile training program prior to race day and then they can run, walk or jog the 1.2 mile course on race day. Every child is a winner and will be rewarded with an official race number, T-shirt, goodie bag, and colorful medal– just for finishing!
HOW TO LOG YOUR MILES: Participating schools will have running clubs to help you log miles. You can walk, swim, hike, and of course, run! If you are playing a sport, have your coach fill out "mile tickets" for you for any miles you walk, run or swim in your sport. Joining Missoula Youth Track Club in the spring is a great way to join to log miles as well.
TRAINING LAP:  Run a final training lap at Washington Grizzly Stadium on Thursday, June 5, 2014.  Gate opens at 5:00 PM, run begins at 5:30 PM.   Pick up your official race t-shirt, race number, and get your picture taken on the field.   If you CANNOT come to the final training run, you can pick up your t-shirt and race number on race day.
Here is the link to the Missoula Kids Marathon Log 2014 to log your miles.
*Missoula Kid's Marathon scholarships available through generous support from ALPS.  To apply for a scholarship, please fill out the following form.  Please contact Hillary Ogg with any questions.