Missoula Marathon
Travel & Lodging
Summer is a busy time in Western Montana. Book your hotel and make travel plans early to avoid missing your opportunity to participate in the Missoula Marathon! For assistance in planning your trip to Missoula visit Destination Missoula's website or call them toll-free at 1-800-526-3465 to speak with a travel counselor.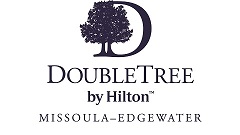 Our host hotel Double Tree by Hilton Missoula-Edgewater has a block of rooms reserved. You can use the map below to book the Double Tree or find your perfect place to stay!
Lodging
Missoula and the surrounding area offer a multitude of choices for where to rest your head, from unique bed and breakfasts to the comforts of your favorite hotel chains. The hotels on North Reserve offer quick access to the airport, I-90 and Hwy 93. Downtown hotels place visitors in the heart of Missoula and within walking distances of the University of Montana and the Clark Fork River. Broadway and Brooks Street properties boast convenient access to shopping and restaurants.
There are also a limited number of basic, dorm-style accommodations available through the University of Montana. Click HERE to see opportunities through UM's Residence Life Office.
Our host hotel and marathon sponsor DoubleTree by Hilton Hotel Missoula sits right on the banks of the Clark Fork River and is just minutes away from the shuttle bus pickup location. Click HERE to visit their website.
A full list of Missoula hotels, together with Bed & Breakfasts, Cabins, Guest Ranches, Lodges, Resorts, Campgrounds & RV Parks, can be found by visiting our local convention & visitor bureau, Destination Missoula.

Come For The Run, Stay For The Adventure
Your Big Sky Adventure Awaits. Missoula is a great starting point for access to national parks, hiking, fishing, wildlife viewing, water sports, exploring western history and so much more. For more information, click HERE and check out the "Get To Know Missoula" and "Missoula Day Trips" pages.
We're also working with Destination Missoula to provide information about Partner Deals and more (check back regularly for updates). For even more advice, call toll-free at 1-800-526-3465 to speak with a Destination Missoula travel counselor.
Check out our Missoula Marathon City Guide by Google Maps. There you'll find pins for key race locations, local attractions, food & beverage, sponsor, and more.

Airlines Flying to Missoula
Please consult individual airline websites to confirm flights and destinations. For more information about the services provided at Missoula International Airport (MSO), click HERE.
Los Angeles, CA
Portland, OR
Seattle, WA
Phoenix/Mesa, AZ
Las Vegas, NV
Los Angeles, CA (seasonal)
Oakland, CA (seasonal)
Dallas-Fort Worth
Chicago (seasonal)
Salt Lake City, UT
Minneapolis, MN
Atlanta, GA (seasonal)
Los Angeles, CA (seasonal)
Denver, CO
Chicago, IL (O'Hare) (seasonal)
San Francisco, CA (seasonal)
Denver, CO (seasonal)
"You begin on a yellow school bus in the early morning hours (4:30 a.m.) along with 50 of your new friends, on your way to be deposited 17 miles outside of Missoula. It's all part of the experience, and believe me, it was a great experience! Everything from the running expo to the beer run, from the course and its views to the post-race environment were thoughtfully planned and well-executed! Highly recommend a trip out to Big Sky country for this race!"
– Aumann