Missoula Marathon
Travel & Lodging
Summer is a busy time in Western Montana. Book your hotel and make travel plans early to avoid missing your opportunity to participate in the Missoula Marathon! For assistance in planning your trip to Missoula visit Destination Missoula's website or call them toll-free at 1-800-526-3465 to speak with a travel counselor.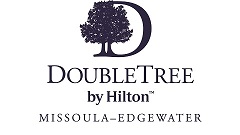 Our host hotel Double Tree by Hilton Missoula-Edgewater has a block of hotel rooms reserved for runners. 
**For the block of rooms please click on the Missoula Marathon Logo inside the map. **
You can use the map below to book the Double Tree or find your perfect place to stay!
"You begin on a yellow school bus in the early morning hours (4:30 a.m.) along with 50 of your new friends, on your way to be deposited 17 miles outside of Missoula. It's all part of the experience, and believe me, it was a great experience! Everything from the running expo to the beer run, from the course and its views to the post-race environment were thoughtfully planned and well-executed! Highly recommend a trip out to Big Sky country for this race!"
– Aumann