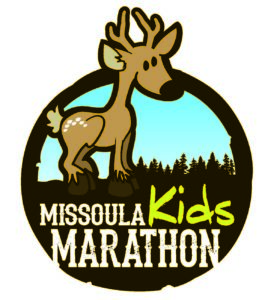 Date:  Saturday, June 29, 2019
Start Time:  10am
Location:  Race begins on the Clark Fork River Trail, in front of Boone and Crockett Club, in downtown Missoula.  Participants will finish at Caras Park Pavilion, adjacent to the Higgins Avenue Bridge.  Course Map
Cost:  $10*
Packet Pickup and registration: Friday, June 28, from 4 – 6 p.m. at Run Wild Missoula (304 N Higgins, in the basement of the Runner's Edge) and Saturday, June 29, from 8:30 – 9:30 a.m. at the start area.
Finishing a marathon is child's play with the MISSOULA KIDS MARATHON!  This non-competitive, non-timed, race is a combination of a logging marathon and a one-mile fun run for children ages 13 and under. It's all about having fun and making it to the finish line on June 29, 2019!
Participants can become full marathon finishers by completing a 25-mile training program prior to race day and then they can run, walk or jog the 1.2-mile course on race day.
Every child is a winner and will be rewarded with an official race number, Cape, goodie bag, and colorful medal–just for finishing!
HOW TO LOG YOUR MILES: Download and print the Kids Marathon Log.  To earn miles, you can walk, swim, roll, hike, and of course, run!  Some ideas:  participating schools will have running clubs to help you log miles; if you are playing a sport, check off miles for any time you walk, run or swim in your sport; join Missoula Youth Track Club in the spring; walk or run in local races throughout the spring and early summer!  Mileage logs are to help get you motivated (you don't have to turn them in)!
*Missoula Kids Marathon scholarships available through generous support from our sponsors.  To apply for a scholarship, please fill out the following form.  Please contact Ashley Cossairt with any questions.