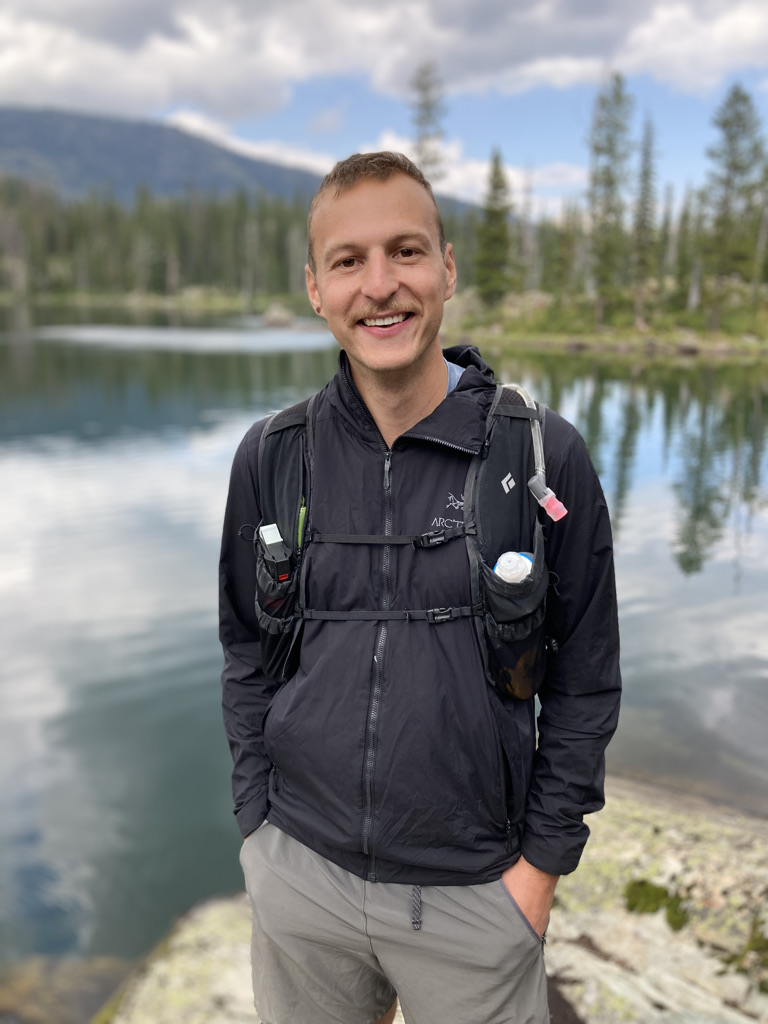 This month's member spotlight features Sam Gilbertson. Sam is a newer Run Wild Missoula member and a relatively new face in Missoula. He moved here for graduate school at the University of Montana and he wasted little time getting involved with our running community.
Sam was born and raised in Milwaukee, Wisconsin. He recently moved to Missoula from Denver, where he was working for Colorado Parks and Wildlife. Sam crossed paths with an alumni of the UM's Environmental Studies program who raved about UM and the Missoula community. In November 2019, Sam visited Missoula for the first time and fell in love. He was drawn to the scenery and pace of life, compared to that in metropolitan cities where he lived previously. He is currently enrolled in the Environmental Studies graduate program and the MBA program at UM. His studies focus on sustainability efforts, which include conducting a greenhouse gas inventory to provide low-cost/high-impact recommendations for the University.
The story of how Sam got into running is a familiar one, and is a great reminder that we all had to start somewhere and oftentimes that means not liking running at all in the beginning. He ran cross country in middle school and as a high school freshman, much to his chagrin. It took him quite some time to unlearn those experiences from races to toe the line again. It wasn't until after college that Sam circled back to running. He was living in Chicago at the time and would run/walk a couple times a week until he decided to train for the Hot Chocolate 5K. One thing that stood out to him about that race was how proud he felt after crossing the finish line. Not long after, he moved to Denver to pursue a career change. While there, he did not feel like he was living the healthy lifestyle that he wanted. That is when he started to run/walk again to get back in shape. He started with just a few blocks and eventually worked his way up to a 10 mile run/walk.
Sam got more into trail running after he moved West. Once a week, he would go to Staunton State Park to get his bearings for trail running. In 2019, he moved back to Wisconsin and his curiosity about ultra running blossomed. He never really considered himself a fast runner nor was that initially the goal, he was more interested in how long he could endure and keep moving. For Sam, it became a metaphor for life, which is rarely a sprint and sometimes you get through by just staying on your feet. He wanted to learn how to embrace the solitude of long runs. A friend of his, who is a seasoned ultra runner, offered to help him train for his first 50K, The Driftless 50K in Wisconsin. At the time his longest run had been 10 miles, but he was determined to take on this challenge. In 2019, he completed his first ultra; and, although he accidentally got off course for a bit, he still finished and loved the experience.
Since moving to Montana in August 2020, running has been a big focus of his free time and a great way to meet other people in the community. He started attending RWM's Wednesday Evening Wild Miles and is currently being coached by Jeff Mogavero from Alpine Running Guides. Finding a love for running has given him so much more than a healthy outlet, it has given him community, a way to overcome personal challenges, and balance in his routine with grad school. With all of the suffering happening in the world, distance and ultra running has become a form of suffering that Sam feels he can control. Being a graduate student is no easy task and can certainly consume all of your time if you let it. However, for Sam it has been important for him to incorporate running into his routine. He finds that it gives him more energy to do the things he wants and needs to do. Sam also stopped drinking alcohol about a year ago and that has had a profoundly positive impact on his productivity and running.
Over the last year, Sam has found motivation through the running community and has been inspired by the endeavors of others. This summer he took off to explore the Tetons for the first time. He completed the 35 mile Teton Circumnavigation route by himself. Not only was he in awe of the scenery the entire time, but he was also smitten with the newfound love of human powered adventures.
Sam is nearing the end of his most recent training block and is gearing up for another ultra in Greenback, Tennessee called the Firewater Ultra 50K. He is tacking on a family visit with the race and feels excited to run in a totally different place. When Sam is not running around the mountains or grinding away at graduate school, he can be found taking hikes with his dog, Bridger, getting outdoors with friends, or encouraging others to pursue their running goals!