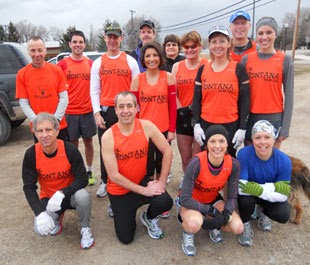 Dear Tim Mosbacher,
I will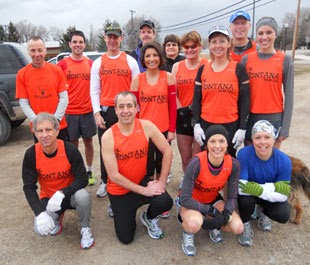 need to get a refund from our Boston  training class. I remember in the fine print that you guaranteed to improve one's time by at least a minute. I improved by 7 seconds. 7 lousy seconds. Had I stopped to kiss 1 (or more)  Wellesley girls my time would have fallen miserably. (My running time not my kissing time.)
Oh yeah and what about the advice to bring spare shoes? Nothing was said about a wetsuit…possible a snorkel. I think I will invent wipers for glasses. I could barely see those Wellesley girls…I almost made the mistake of kissing a guy!
All kidding aside I can't thank you enough Tim Mosbacher! Without your training I am not sure I would have finished. I forgot my Garmin watch at the motel so my strategy went  to the road side sorta speaking. I was able to run with Amy from New Jersey for about 16 miles so that helped, but she was running a little too fast for me. I could feel my legs tiring by mile 10. By half way I could tell I was going too fast. By mile 16 my hamstrings were trying to ball up, and then somewhere in there I sprinted down a hill. Definitely a mistake. My quads started to scream at me. I think this is the first time both the front and back side of my legs hurt, usually it is just my hammies. By mile 20 I was having doubts but the crowd keep me going! I had Montana Strong with my name on the front of my shirt and Boston Strong on the back. The crowd loved it! When some people saw Montana on the front of my shirt they all but broke the barrier down to high five me. What a great feeling!
So I am seeing the CITCO sign finally and it is acting like a mirage. I swear it just kept getting farther away, and I can't remember what Tim said the distance is. All these numbers are going through my head 19, 22,23 I just know he said it isn't the end.  By this time bus loads of runners are passing me, more than I ever remember getting passed by at the end of a race. I swear a grandma with a cane even passed me. My only goal at this point was to finish without walking, which I met.
So then the CITCO sign disappeared… I have no idea what they did with it…I think the wizard of OZ was involved. I also believe the entire end of the course is uphill. And I couldn't find the underpass. You have to go through the underpass to get to Boylston St. And they hid it. I really wasn't nice of them to play tricks like that on marathon day.
Ok finally Boylston street!
WOW!   is all I can say.
It was my Toyota moment… Oh what a feeling… If you remember the commercial. Sara talked about trying to sprint that last stretch and how hard it was. There was going to be no sprinting for me. I did try to push just hard enough to stop the rush hour traffic that was passing me, with a little success. Toward the finish line I did a hand pump of sorts and the crowd went wild. Like I said …oh what a feeling…
Just before I crossed the finish line some guy was just screaming…  Go Montana…over and over… I really wasn't paying attention to the crowd anymore (to much Pain) but I finally turned and acknowledged him. I believe it was the guy in the cowboy hat Carlos Arredondo. The man that helped the legless man the day of the bombing. He was flat elated that a runner from Montana was crossing the finish line. WOW! He is a hero in my eyes and he is cheering me on. I'd like to think he was cheering Montana on not me.  I was proud to represent Montana. All through the race I tried to either give high fives, or a nod, thumbs up, shake of my head to anyone saying my name or Montana. There are some real fans of Montana in Boston!
The end was cold.
It didn't take long after I stopped running to start shivering. Thanks to coach Tim I had a winter hat on. I wouldn't have even thought to bring one. I had planned on tossing it aside when I got too warm  but that moment never came. By the end of the race the hat was completely soaked but still helping hold in the heat. They were handing out water the first couple of tables at the finish line and then the heat shield. Should of handed out shields first because of the weather. By the time I was  to my family meeting area I was shaking pretty good. My family was stuck in the crowds so I had no dry clothes. Then fellow Missoula runner John Duffield met up with me and assessed the situation that I needed help. He got me to the ATT phone bank and I called my family to set up a meet. Then we found a lobby to get warm in. Thanks so much John, and great run! I believe you got 8th in your age group. way to run!
The race meant more to me than I thought It would.
It was never really my goal to run Boston mainly because I didn't think I could ever qualify. But after the bombing I did want to run the Boston. And now that I ran it,  It will have a special place in my heart. The people were absolutely great. I believe it would have been harder being a fan and standing in the rain and wind than running it. But stand and cheer they did! I saw no one going away, they were there for the duration.
Thanks coach Tim. Thanks to his wife Becky for sharing Tim with us, running is a real time commitment. Thanks to the training group, Craig, Dana, Rod, Chris, Sara, Brian, Dean+Carol, Trish, David, JB, and on and on… Runners edge, Run Wild. Thanks to Coach Courtney Babcock for Tues. track! You have taken me a long way in 3 years, from a guy that didn't know how far 400 meters was to running the Boston.
by Brian Panian, RWM and Boston Training Class Member