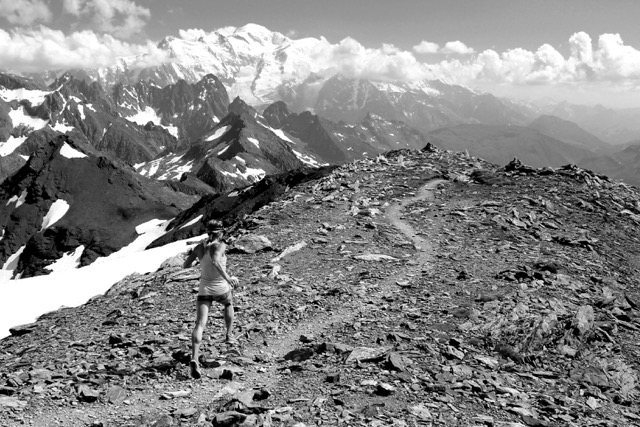 A Run Wild Missoula member since 2009, Kristina began running in her 20's when it was imperative if she wanted to keep up with the guys as a wildland firefighter, a hotshot, and later, a smokejumper.   Fast forward to today and it's no longer a requirement, but rather her passion to run mountains and trails.
Entering her first 50-mile ultra in 2011 on a whim and with some encouragement from friends Katie Gibson and Jessie Thomas (read "peer pressure"),  she tied for "fourth or fifth."  The hook was set.  Knowing she could do better, Kristina signed up for her next ultra in 2012, a 50k race in the Grand Tetons, WY at high elevation.   Not only did she win, but she set a course record.  "That was the line and sinker," noted Kristina.  "I really felt more at home running in those mountains than doing anything else in the world.  It was just so fun and natural for me. I found so much joy hammering those hills."
Today, she participates internationally in the sport of Skyrunning.  This month, Kristina travels to Madeira, Portugal where she'll compete in the Ultra SkyMarathon as part of the Skyrunning World Series before heading to Slovenia where she'll represent Team USA in the World Long Distance Mountain Running Championships.  In July, she'll be competing in the Skyrunning World Championships taking place in the heart of Spain's Pyrenees mountains.
"Skyrunning ultras generally include my favorite three challenges: lots of gain (typically over 10k feet per 50k
m), lots of technical ground, and exposure to mountainous terrain above the tree line.  I prefer that kind of 'running,' mostly because I love being in the mountains and seeing the views," said Kristina.
Her love for running the mountains is undeniable, especially when you read her blogs on the Montana Trail Crew's  website where she's a Board Member and regular contributor, or visit her website KristinaPattison.com.  Her article Running on Grit: Missoula Women Hit The Trails provides insight into this athlete's competitive nature, and yet also speaks to her inclusiveness for others to join her on the trails. She concludes the article with, "I'M TELLING YOU, YES YOU CAN," and after reading it, one finds themselves re-evaluating what is possible and thinking, maybe I could?
Kristina was nominated for our June Member Spotlight because she inspires us with her passion, dedication, and achievement in her sport, along with her encouragement and mentoring of others to participate. As she puts it, "run.courageous.live.free."
Following is a Q & A with Kristina including some fun facts about her running.
Do you run both road & trails? 
I have run roads…to get to trails.
How often do you run? 
Six days a week, all year.
Average miles per week?
Varies by season, but usually low mileage (around 50 – 80 miles) with lots of gain.
Toughest race, and why?
Mont Blanc 80km in the Alps around Chamonix, France (2015) was my toughest race recently.  It is actually closer to 55-miles and has about 24,000 feet of gain, but it felt more like a hundred-mile effort. With technical ground, glaciers, and me hobbling along with an ankle injury, it took a long time. But I'll never forget it.
How do you continue to train in the bad weather months? 
I wear more layers, stay closer to home, and take advantage of paths that all the other hardcore Missoula runners pack down on Sentinel…(thanks to Seth Swanson, Steve Brown, Margie Menedez, et al…)
What's the most unusual thing you've encountered while running on a trail or  mountain? 
Not unusual for Montana, but seeing wildlife is always memorable and exciting. Late 2015, I saw four bull moose and a mama with her baby blocking my path in a steep section of the Rattlesnake drainage. It was fun to see, but they were more stubborn than me so I changed my itinerary.
What's your favorite race that you've ever run? 
The Rut 50 km by the Runners Edge!
Approximately, how many pairs of running/trail shoes do you own? What is your  favorite brand?
This is embarrassing, but close to 70!  La Sportiva makes some of the best mountain running shoes on the market. I prefer the Mutants or the Akasha—their new model which is more of an all around trail runner.
Go-to energy snacks (e.g. fuel) when racing and/or out on the trails? 
Hammer Gel—Tropical, Noccoila, or Chocolate Peanut Butter.
Do you ever struggle to get motivated to go out for a run?
All the time. Usually I'm busy and feel guilty for being so selfish. But I recognize that if I don't do what I love, I can't be the person I want to be in other areas of my life, so I go. And I always feel better afterwards.
Do you have any pre-race rituals? 
Ha, this makes me laugh…I never thought about it but I probably do. At the risk of sounding OCD, I do lay out my kit.  If it's a race that I've done before, I look at my splits to aid stations from previous years.
Must haves when trail running? 
My camera! And my La Sportiva Mutants because traction is a life saver, literally. Feetures Merino socks — best socks ever… My Julbo Breeze sunglasses — photochromatic lenses are super handy.  And right now my Ultimate Direction Ultra Vesta because I always carry a bunch of Hammer gels (Noccoila tastes like Nutella) and water.
Advice or encouragement for new trail runners? 
Run courageously and race your own race. Never fear what you can't control, just be prepared to face what you can.
Activities / Hobbies besides running? 
Working in my garden with my favorite person in the world, my crazy smokejumper husband, Drew.
Words to live by.
"As an athlete, I want you to focus on the process. The training.  Why you love the mountains…This is a lifestyle.  Our passion.  Keep it genuine.  Work hard when that's what your workout calls for.  The hard workouts are just as much about mental fortitude, as making physical gains." — my coach, Mike Wolfe, on mountain running.
Anything else to include?
Huge thanks to my Montana Trail Crew Ladies for the support and love out on the trails!