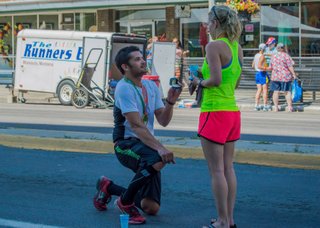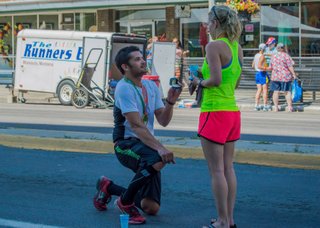 Both Luke and Amber enjoyed running prior to their chance meeting at a wine tasting event in February 2013, but it wasn't until that March that they started running together. Having signed up for the Missoula Marathon Training Class led by Anders Brooker, it would be Amber's first marathon, and their first together. Unfortunately, a stress fracture forced Luke to drop back to the half, and therefore, they focused on running the full marathon together the next year.
July 2014. Both successfully completed the full marathon, and unbeknownst to Amber, Luke also planned to propose marriage. He'd already asked Amber's father for her hand in marriage months earlier and received his blessing. Waiting at the finish line for the proposal to occur were Luke's parents and Amber's mom. "When Luke started to propose, I initially thought he just wanted to sit down (having fought through significant leg cramps throughout the race), but it didn't take long to realize he was proposing." She said yes, and they planned to marry after the 2015 Missoula Half Marathon.
The Wedding | Elegance with a Twist
With running playing such an integral part of their lives, the Robinson's wedding highlighted their love for the sport.  While the bride, groom, and wedding party donned traditional wedding attire,
they all wore neon colored running shoes.  Additionally, the groomsmens' ties coordinated with their individual neon shoe color.  The Missoula Marathon starting line arch found its way to the ceremony where the bride and her father walked under it on their way down the aisle.  Table tents were made of racing bibs, and the napkins were secured by brightly colored running shoe laces.  Anders Brooker officiated the wedding. "I was honored to be asked to be part of this special and fun occasion" said Anders.  "It is so exciting to see how big of a role running has played in their lives and relationship!" Luke mentioned "running brought us together and it's a big part of what we do as a couple."  Therefore, it only seemed natural that it played a pretty significant part at their wedding.
Running
Luke and Amber average 13-races per year of various lengths and terrain (road and trail), and completed the Trail Rail Run 50-Mile Relay together last month. They placed 3rd overall and were the 1st two-person team to finish. Visiting with them, one notes a healthy competition between the two. For the last four years, Amber has out-paced Luke, although he's "developed wings" over the last year she said, and now just flies. Yet, she was quick to note that she finished before him in Bozeman's Run to the Pub Half Marathon last March. When asked about running, they resoundingly speak of its importance in their lives.
"Running makes everything in life easier. When you push yourself physically, the trivial things in life don't seem so hard." – Amber Robinson
"It keeps us healthy, both physically and mentally," noted Luke. "It's pretty special to be able to run 20+ miles together."
It should be no surprise that the couple will celebrate their 1-year anniversary by running the 2016 Missoula Marathon together. If you happen to see them along the course, be sure to wish them a "Happy Anniversary!" Afterwards, they plan to spend time with family before getting away for a few days.
About the Robinson's
Luke grew up in western North Carolina, and joined the Navy at age 17. He served our country for four years as a meteorologist, and was stationed on an aircraft carrier off the coast of Iraq in March 2002 following 9/11. Afterwards, he earned a Bachelor of Science degree in Atmospheric Science with a concentration in forecasting, and in 2011 secured a position with the National Weather Service as a Meteorologist in Missoula. Today, he's a General Forecaster.
Amber moved to Kalispell from Texas before starting the 8th grade. After high-school, she attended Montana State University where she graduated with a Bachelor of Science degree in Accounting. She worked for the Glacier Restaurant Group in Whitefish as an Assistant Controller before moving to Missoula in 2010 where she's currently the Controller at Watkins & Shepard Trucking.
Following are some fun running facts about Luke & Amber.
Average miles per week.

We average 20-40 miles per week depending on the time of year, and what we are training for.
How often do you run (days/week)?
4-5 days a week when injury free.
If I didn't run, I'd ____________. 

Amber: Miss out on so many adventures and sights that only my feet can take me to.
Luke: Not be as thin and fit.
Running goals for the year.
In the short term, we'd like to finish the 2016 Missoula Marathon in under 4-hours. We're considering taking that fitness to a fall marathon, and see how close we can get to Boston Qualifying.
Favorite running shoe.
Amber: I'm still searching for my perfect slipper. 
Luke: Brooks Adrenaline GTS (I have five pairs), two that I currently run in.  
Go-to fuel when running.

Hammer Gels: Huckleberry and Carmel Apple; Hüma Chia Energy Gels: Berries & Pomegranate.
Must have(s) when running.

Microsoft Band 2, Garmin or phone.  Occasionally just running shoes…. well, and clothes.
Pre-race meal and/or routine.

We always have panko/parmesan tilapia with quinoa, and either broccoli or asparagus.
Favorite post race meal / indulgence?
A burger and a BEER (or 3)!
Activities / hobbies besides running.
Hiking with our dogs, camping, floating, and anything outside.
Greatest piece of advice you've been given for running and/or life? 

Everyone will have bad days running. It's the good days that will get you through it.  Don't let your head (your mind) get in the way, trust your body.
If you could have lunch with any runner (past or present), who would it be and why?
Amber: I cannot think of anyone specifically, but I would have lunch with any runner. I find runners to be very interesting people.  You can always learn something from talking to another runner, and everyone has a unique story.
Luke: I always admired Michael Johnson when I was younger, so I would say if anyone, it would be him.  Otherwise, I would have the same answer as Amber.
##
Do you know someone from our Run Wild Missoula community that we should get to know better? Nominate them for a future Member Spotlight today!