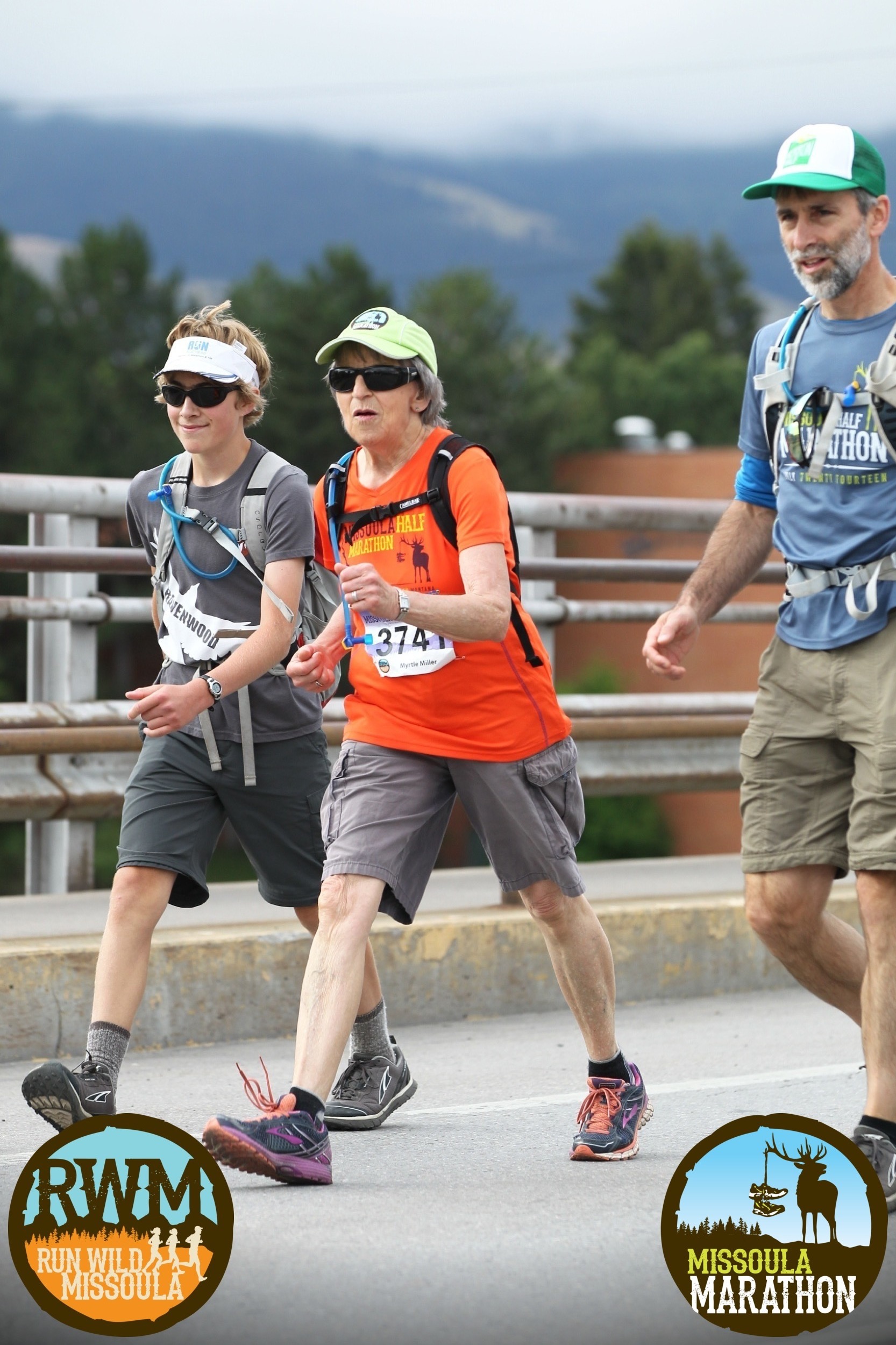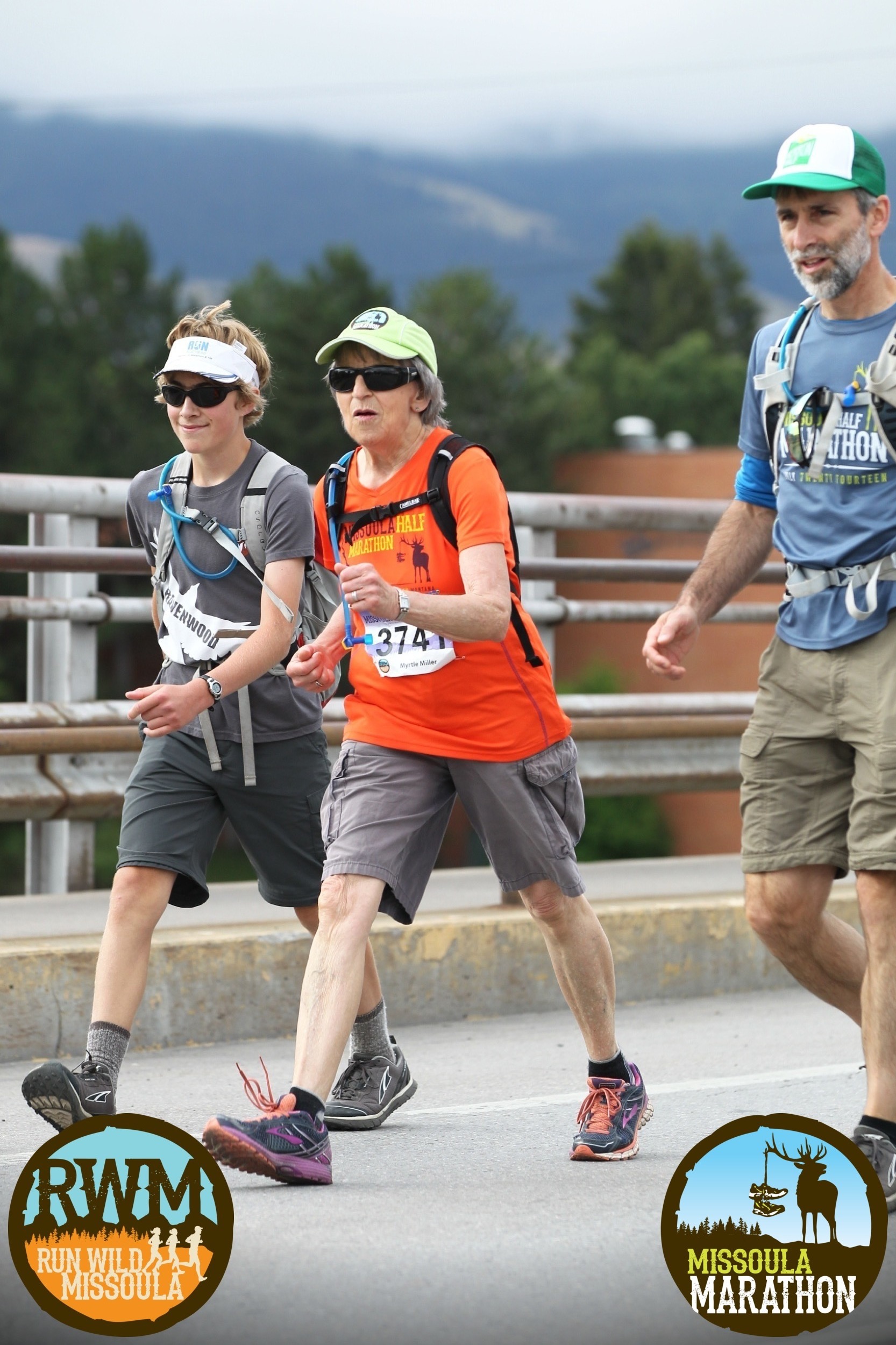 83 years young and an inspiration to so many, Myrtle Miller has been a staple participant within our walking community for over six years completing the Missoula Half Marathon every year since 2011.  She's also an active trail enthusiast, hiking the beautiful trails in Montana for over 18 years.
Understanding the importance of physical fitness as a trained (now retired) Registered Nurse, Myrtle incorporated exercise into her daily routine over fifty years ago, and started running 10K's in her early 40's.   When she turned 50, she decided to run a marathon and completed the Governor's Cup Marathon (Helena, MT) at age 51, "with some walk breaks," she says with a smile.   In her 60's, she embraced hiking and snowshoeing, and continues to enjoy these activities 18 years later.
In 2011 and in her mid-70's, she and friend Sharon Dill joined the Missoula Marathon Walking Training Class offered by Run Wild Missoula and have successfully walked the half marathon race for six years.  Clearly Myrtle is keeping pace into her 80's as Sharon noted, "I could tell I had slowed down when I grabbed a drink at the aid stations because Myrtle just kept going at her normal, steady pace," noted Sharon. "It's kind of humbling when you have trouble keeping up with someone ten years older than you, but I'm used to it with Myrtle."
Regarding the class, Myrtle enjoyed the weekly training schedules and guest speakers who discussed everything from proper form, to fueling, mental focus, etc.  She obviously incorporated what she heard because she finished the 2016 Missoula Half Marathon in 3:31:53 (16:10 minute/mile walking pace), and five minutes faster than the previous year.  Joining her on each race has been her son, Brian, and she also enjoyed walking the 2014 race with her then 13-year old grandson.  It seems being active is part of the Miller family culture. In fact, she and her husband Eugene hiked 7-miles the Tuesday after this year's half marathon.
One of the key activities that Myrtle "swears by" is stretching. "It keeps me flexible," and she often follows this morning activity with quiet time spent in meditation.   In addition to her activities outdoors, Myrtle enjoys reading and spending time with family.
About Myrtle Miller
Born in Pennsylvania, Myrtle attended Goshen College in Illinois where she earned her Bachelor of Science degree in Nursing.   She met her husband of 54 years, Eugene, in Indiana and gave birth to a daughter and son in the Hoosier State.  Working as a Registered Nurse both in Indiana and later in Montana, and Eugene as a school teacher, the family moved back to Eugene's home state of Montana in the early 1970's.  They currently reside in Missoula, and are blessed with three grandchildren (two grandsons and a granddaughter).
Following are some fun walking facts about Myrtle.
How often do you walk / hike (number of days per week)?
How do you stay motivated when you don't want to walk?
Staying healthy keeps me motivated.
What goes through your mind at the starting line?
This is what I have been training for over the last 4 months.
What is your most memorable race?
Running / walking the full marathon in Helena (Governor's Cup Marathon) when I was 51.
Have you ever run in a costume?
Any upcoming races and/or walking goals?
Right now, I'm focused on continuing my walking & hiking.
I don't have a favorite brand, just shoes with good support from Runners Edge.
Must haves while walking?
Water with Hammer Nutrition® electrolytes, and energy beans.
Jelly Belly Sport Beans®; GU™ Energy Chews, both the caffeine and caffeine free ones.
Favorite pre-race meal and/or routine before a race?
What is your favorite post-race meal, or indulgence?
What is the greatest piece of advice you've been given for walking and/or life?
Play by the health rules, good nutrition, exercise and keep a positive attitude.
If you could meet anyone (past or present), who would it be and why?
Frank Shorter or Joan Benoit Samuelson. I remember Frank Shorter winning the gold medal in the 1972 Olympics and couldn't imagine anyone running that long.  It was the first time that running came into my view as a true sport.