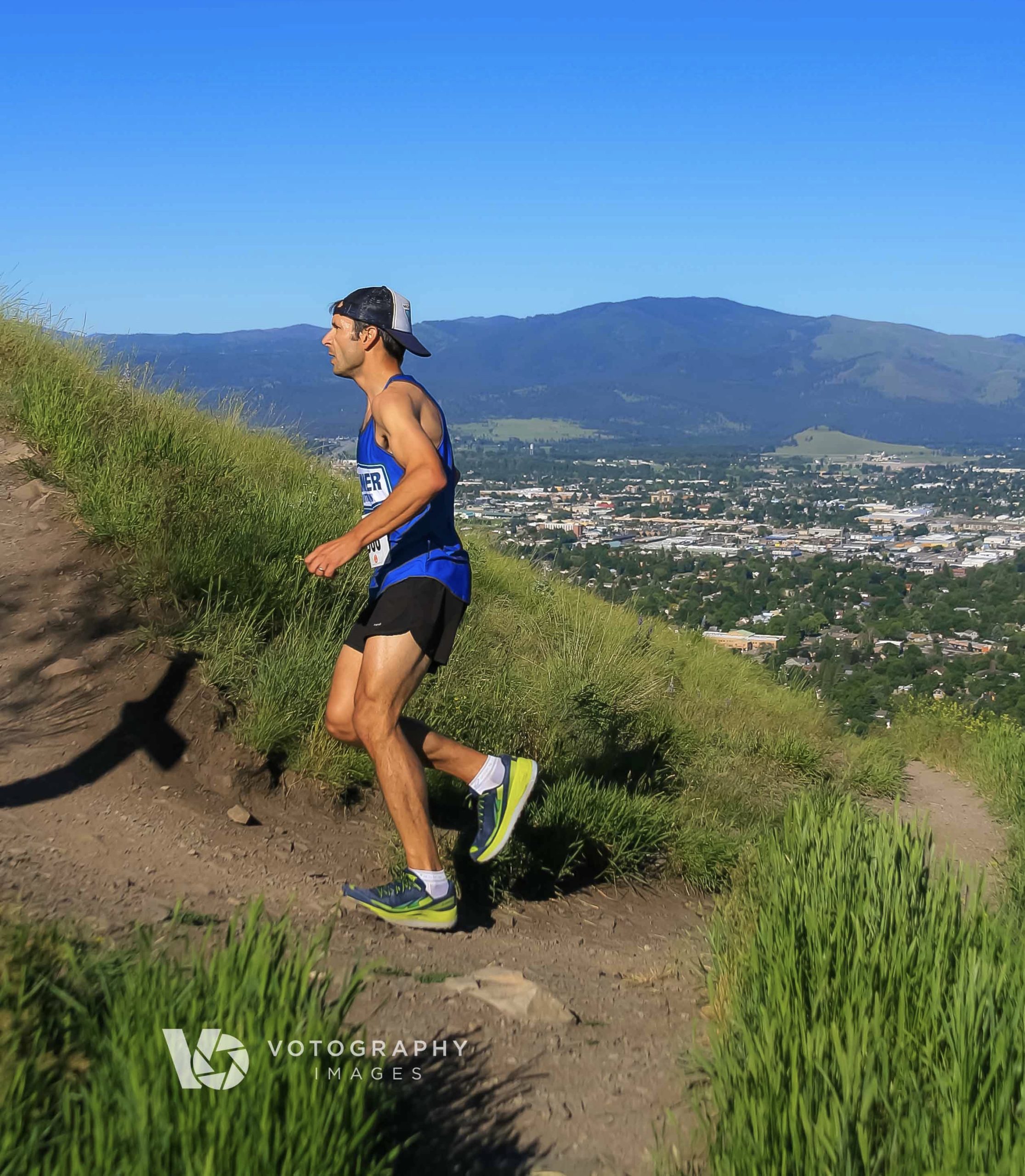 Logging over 3,000 miles a year, Jimmy Grant is one of Missoula's staples in the trail running community, not to mention a course record holder for many trail and road races.  A historian by profession and co-founder of Montana Trail Crew, this family man started running when he was just a young boy.
A "Child of the Northern Plains" as he describes himself having grown up in Minnesota, North Dakota, and Winnipeg, Jimmy recalls the occasional road races (kids' fun runs) with his father and brother, but his passion back then was ice hockey.  While he enjoyed running as a high school cross-country athlete, he spent more time on the ice.   In college, he played hockey on the University of Montana's club team, and only ran occasionally.
Working for the National Park Service in Wyoming after graduation, Jimmy began trail running again, and continued when he moved to Connecticut where he raced a trail half marathon as his first competitive race since high school.  The allure of completing a marathon whispered his name, and he signed up for the Vermont City Marathon.  What the whisper didn't convey was how hot it would be that day, nor that he would go out too aggressively.  Afterwards, he thought,  "I can do better than this. I'm better than this (time)." And so it began, he signed up for another marathon, and another after that.
Today, you can sift through the race results around Montana (or in other states), and you'll find Jimmy's name among the top finishers, as the winner and/or course record holder.  He's won the Riverbank 10K race numerous times, finished among the top finishers at the Missoula Marathon multiple times, and held the course record on the 11-Miles to Paradise Run until just a couple of years ago.
"I like to chase time goals," notes Jimmy, "and I enjoy the camaraderie."  He also enjoys the competitive nature of racing, noting how it feels to run in a pack, the decision making process on choosing how to react when someone makes a move, or how others react when he makes a move.  He's also drawn to national level races, and has been known to complement family vacations with them as he did last summer in Massachusetts taking first place at the Chatham Harbor Run 10K (USA T&F sanctioned event).
Training
His sweet spot is between 3,000 and 3,500 miles annually, and it's a commitment that he coordinates around his family and professional life.  "I like to walk my daughters to school in the morning, which means I have to be finished before 7:30 am."  With the shorter days, that means he's out running the trails with a headlamp.  He enjoys cross-country skiing, casual hiking and hanging out with his kids for cross training, and began cross-country skate skiing this season.
As for long-term goals, completing a marathon or ultra-marathon in every state would be nice.  Recognizing his daughters are still young (age 6 and 7), this may wait until after they've grown up, although he's already checked a dozen states off the list.  He also said a 100-mile race sounds intriguing, but recognizes he'd need to train for this "in order to do it justice." His longest race to date is 50 miles.
Building a Trail and Mountain Running Community  Under the Big Sky.
With his love of running outside and particularly on the various mountains and trails of Montana, Jimmy co-founded Montana Trail Crew (MTC) along with four friends in 2013.  Their purpose was to "promote Montana trail running and provide a stewardship platform to encourage the running community to give back to the trails and open space we cherish."
The community, or Crew, of runners has done fantastic job. They work to maintain and preserve the trails in and around Missoula throughout the year, organize and host the annual Mountain Running Film Festival, coordinate group runs, and create a statewide sense of community among trail running enthusiasts through their website and occasional newsletter.
Starting this January 2017, Run Wild Missoula (RWM) will become the parent organization for Montana Trail Crew (MTC).
"There has always been a degree of overlap between MTC and RWM, but over the last couple of years RWM has taken on a much more prominent stance in the collective realm of trail running, stewardship, advocacy, and conservation. Obvious examples are the club's financial commitments to the M Trail and Mount Dean Stone open space. Moving forward, with RWM as MTC's parent organization, I see us serving as the club's trail running/trail work/conservation arm. We'll continue to function with a degree of autonomy, but we'll be committed to representing RWM and providing an outlet for club members to volunteer for trail work and related projects," notes Jimmy.
"Jimmy and the Montana Trail Crew have made a real difference to the trail running community in Montana – especially in the Missoula area," said Tony Banovich, Executive Director, Run Wild Missoula.  "The ideals on which MTC were founded mesh well with Run Wild Missoula's mission.  So, it seemed a natural fit to bring the two organizations together.  We're hopeful that RWM's staff, volunteer and financial resources will allow MTC to have an even bigger impact on Montana's trails and trail runners."
About Jimmy
Jimmy and his wife, Lori, met while they were students at the University of Montana and married in 2003. Together, they have two lovely daughters, Adelyn (age 7) and Amelia (age 6).  The entire family enjoys running and the outdoors, and his daughters have participated in a few kid races including the recent Turkey Day 3K and the Run for the Luck of It Kids Run last March.   Jimmy holds a Bachelor degree in History from the University of Montana, and a Master degree in History from Providence College.  Working as a historian for Historical Research Associates in Missoula, he works on projects involving environmental litigation, administrative history, and cultural resource management for a client list that includes federal, state and tribal governments.
Following are a few fun running facts about Jimmy:
How often do you run (days/week)?
Most days. Usually 7 days a week unless life gets in the way.
Average miles per week?
For most of the year I average about 70 mpw (miles per week). I run quite a bit less in the winter, but more in the spring and summer. If I'm training for a race, I'll average around 85 mpw for a couple of months before my goal event with peak training weeks hitting around 100 mpw.
Most memorable race?
There really is no single race that stands out as "the most memorable" for me.  Instead, I'd say that there are a handful of them.  I had a breakthrough race in high school cross country when I realized I might actually be a decent runner. I've run some marathons where things fell into place and I met my goals with a high place or a good time. I've also enjoyed racing in some memorable landscapes, featuring all kinds of weather including blizzards, deserts, and downpours. These have been memorable, but not necessarily enjoyable!
What's the most unusual thing you've encountered while running on a trail?
I've spotted a wolverine, which is pretty unusual.
Have you ever gotten lost?
I get that lost feeling now and again, and have had to double check my whereabouts on a map or gps but I've never really gotten lost. The closest thing to lost has come after taking wrong turns in trail races, which is a horrible feeling.
Approximately, how many pairs of running shoes do you have? What is your favorite brand?
I have about a dozen pairs lingering around. It annoys my wife but they all seem to serve a specific purpose. I wear Altras.
Go-to energy snacks (e.g. fuel) when racing or out for long runs?
I use Hammer Nutrition products, so Hammer gels mostly. With flavors like "Montana Huckleberry" you really can't go wrong.
Do you have any pre-race rituals?
I drink a cup of coffee in the morning, jog a 15 minute warm up, do a few strides and a couple of nervous stretches and I'm ready to go.
Must have when trail running?
I always wear a cap.
Any advice for new trail runners?
Start small by running some short routes on familiar local trails, take rest breaks, walk steeps sections, and enjoy the scenery.
Words to live by?
The hardest part of any run is getting out the door.
If you could meet anyone (past or present, runner or not), who would it be and why?
Since this is about running, I'll go with a runner: Billy Mills. I actually met him when I ran in the cross country nationals as a high schooler. At the time I had no idea how much of an inspiration he is. His achievements as an Olympian are amazing, (just watch this video https://www.youtube.com/watch?v=VVlKVWFmfhk) but so is his work beyond athletics, particularly for the Native American community. That's what really sets him apart.