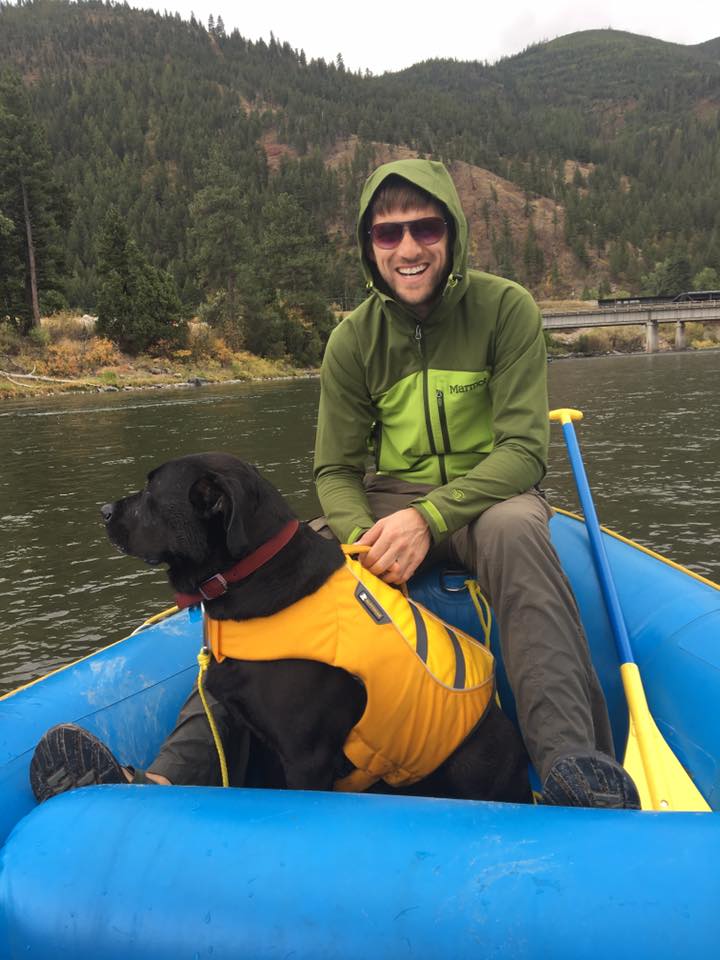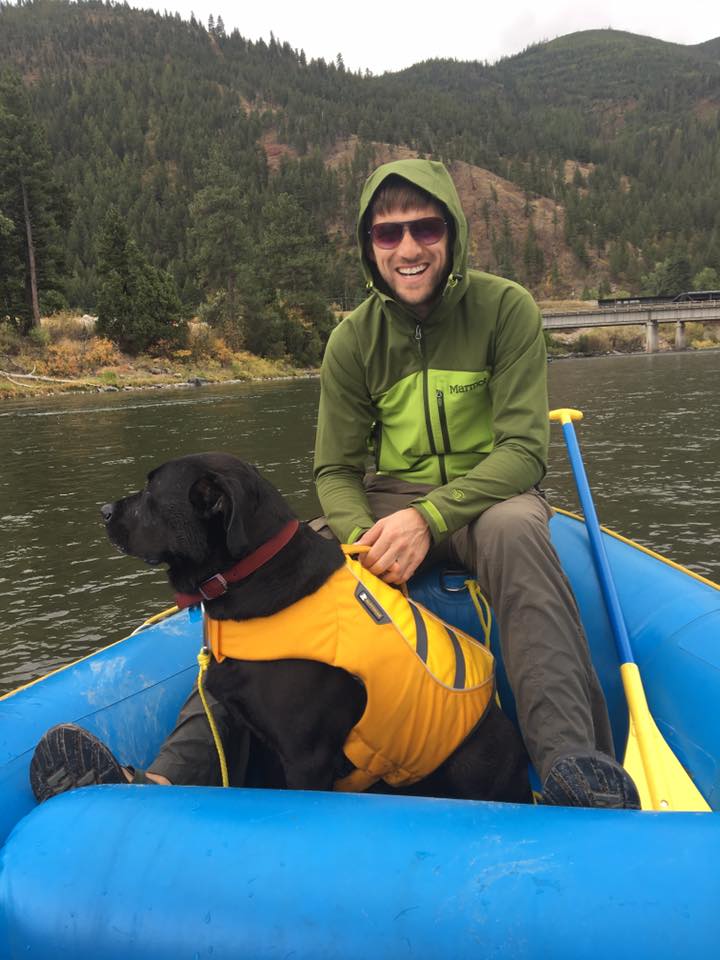 Meet Adam Rasmussen, runner, beer lover, and active member of Missoula's trail running community. You might meet Adam in a Run Wild Missoula trail class, running up sentinel harnessed to his pit-lab mix, Winnie, or helping you with your latest house renovations. Adam is relatively new to Missoula, but his love for trails, Biga pizza, dogs, and lumber make him an honorary native.
Where are you from? What brought you to Missoula?  
I grew up in Westmont, Illinois, a suburban town 20 miles outside of Chicago known for being very much ordinary and not much else.  I met my future wife, Meredith, on the field of a college pick-up soccer game. We took every opportunity we had to drive west and explore the mountains of Montana, Wyoming and Colorado. I really mean every opportunity. We once drove from Champaign, IL to Georgetown, CO and back in 36 hours, climbing 3 fourteeners along the way. In the winter, we used Meredith's family's house in Whitefish as a landing spot as we explored northwest Montana and pretended to know something about skiing.  While warming ourselves in a coffee shop after an afternoon of skiing Big Mountain, we looked at each other and simultaneously asked, "Should we just move to Montana?"  Fast forward 6 years, one acceptance letter to a PhD program and a job transfer, and we were cruising into Missoula with everything of value packed tetris-style into the back of our Subaru.  That was nearly five years ago, and we love this mountain town more every day.
When did you start run/walk/running and why?
I don't remember when I started running. For as long as I can remember, it has been my preferred method of personal transport. As it a kid, it was how we went everywhere in the neighborhood.  It got us away from bullies, over fences, out of reach of the crazy dog on the corner, and (just barely) onto the school bus.  Since my high school didn't have a soccer team (my sport of choice as a kid), I joined the cross country and track teams instead. While I spent my high school years running, I still saw running as a tool for getting around and a method for staying fit, not exactly a lifelong passion.  The first step towards my running awakening came when Meredith and I decided on a whim to register for the 2008 Chicago marathon. The race was brutal and I was grossly under-trained, but it led to running a handful of half and full marathons throughout the Midwest before we moved to Montana.  It didn't take long after arriving in Missoula to leave the pavement behind in favor of the trails, which was when I'd say I began to run because I love running. So, to answer your question; I've always run, but my 'why' has changed considerably over the years. Today, I run because it's an adventure and a challenge, and because I can't imagine a better way to explore this awesome place where we get to live.
Roads or Trails?
Trails!  Give me dirt, mud, snow, gravel, scree, bushwhacking, and game-trails that lead absolutely nowhere, but please, no more pavement 🙂
You've been a participant in the Intermediate and Advanced Trail Classes for a few years now.  How would you describe it to someone new?
These trail classes have been a priceless opportunity to learn workout and running techniques from experienced runners, and make 30 friends along the way.  I appreciate that the classes are coordinated with the local race schedule, making it easy to take the classes while also participating in the Missoula race series events.  Other perks include getting to enjoy beautiful sunrises on Thursday mornings, and seeing Forrest's vast shoe collection first-hand.
To Strava or not to Strava?
I like Strava for many reasons (workout tracking, running community interaction, nifty graphical interfaces) but that said, I don't use it very often.  I might use it more frequently if I could connect via watch (instead of needing to carry a phone). Alas, my ancient GPS running watch (reminiscent of a 1980's calculator-watch) isn't up to the task. Speaking of which, does being profiled for the Member Spotlight come with a discount coupon to Runner's Edge? –Unfortunately, the prize is bragging rights only. Garmin, if you are reading this, Adam has very nice wrists and would make an excellent brand ambassador.
Are you currently training for anything?
I would say that I'm training for the Rut 50k, and hitting as many Missoula races as I can along the way. I am planning for the Pengally Double Dip, Sentinel Hill Climb, Snowbowl 15k, and Blue Mountain 30k.
Do you have a pre-race meal, and/or ritual?
One slice of multi-grain toast with peanut butter and sliced bananas before every lengthy run since 2008.
How about a post-race indulgence?
I have a serious weakness for salted/fried potato products (french fries, tator tots, deep-fried twice-baked potato, etc) and vanilla bean ice cream.  Preferably in that order.
What are the top 3 songs on your running playlist?
I run trails to escape man-made noises, so I try not to bring them along.  Plus, I like to hear the jackalope warning cries before they pounce.
Finish this sentence: When I'm not running, I'm…
..renovating our house, and wishing I was out running mountains.
Words to live by, or favorite quote? 

In every walk with nature one receives far more than he seeks. — John Muir