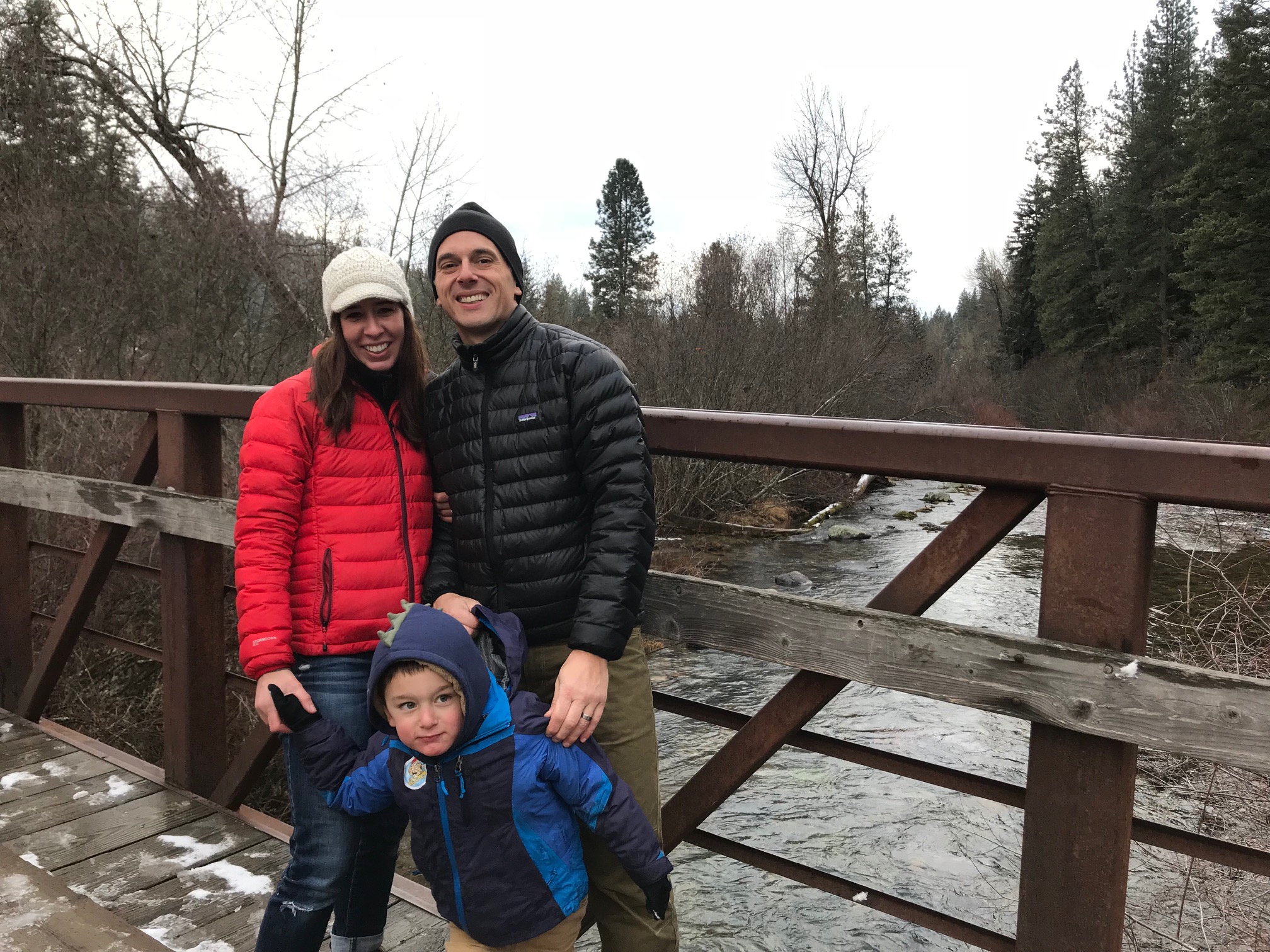 Where are you from? What brought you to Missoula?
We're from Ohio and Colorado. Moving between Ohio, Colorado, Delaware, and North Carolina for careers in academia, we were always striving to end up somewhere that running and the outdoors could be central to our lives. Rich is a professor of physical therapy and studies running-related injuries; I'm in higher education marketing/communications. When we started looking for a new place to call home in 2017, we were fortunate to find the perfect fit with Missoula. Literally every day, Rich and I both look around and feel thankful we get to call this place home. We worked really hard for a long time to get here. We love it.
When did you start running and why?
I started running on the cross-country team in the sixth grade. I got super into cycling during college and have been on several competitive mountain biking teams over the years, but I always come back to running for the simplicity. Rich started running in high school for track and cross country as a break from competitive swimming. He continues to mix it in with cycling, mainly mountain biking.
Roads, Trails, or both?
Oh, most definitely both!
What is your favorite local race?
Check back in a year or so and we'll have a more solid answer, but so far the races we've done (Elk Ramble and Run for the Luck of It) have been so well organized and just fun — great courses, awesome people.
Are you currently training for anything?
I'm currently aiming for the Missoula Half Marathon. Rich is training for the Runners Edge race series. We both just got into 11 Miles to Paradise and are stoked about that race and the whole experience it seems to offer too.
You have been a regular at the breakfast runs and a volunteer at RWM! Thanks! What advice do you have for newcomers that want to get involved in the running community?
I love a good group bike ride or run, for everything that it offers. Rich and I met on a group ride in 2003 and he proposed to me at the spot where the weekly ride meets! It can be tough getting involved when you're new though. My experience here has been that if you start showing up to run or volunteer at different events, in time you'll find the runs and friends that suit your pace, etc, because there is something for everyone regardless of your level. And if you go and are the slowest — which I have definitely done! — you can still feel included and encouraged here. The other thing is that, holy cow, there are some folks in this town who are not just fast, but super knowledgeable about running AND willing to share what they know. I've already learned a ton from people in our community so it's worth putting yourself out there even if it can be intimidating.
How about a post-race indulgence?
We love cooking simple meals at home most of the time. Probably our favorite thing is sitting on the porch with a nice burrito and a beer while our four-year-old son, Liam, plays in the garden with his trucks.
If you could pick one place anywhere in the world to run, where would it be and why?
For our wedding in 2005, we eloped and backpacked the Wonderland Trail, which circumnavigates Mt. Rainier. We'd love to go back and run the loop. Honestly though, our daily runs here in Missoula are so spectacular. This is where we want to be.