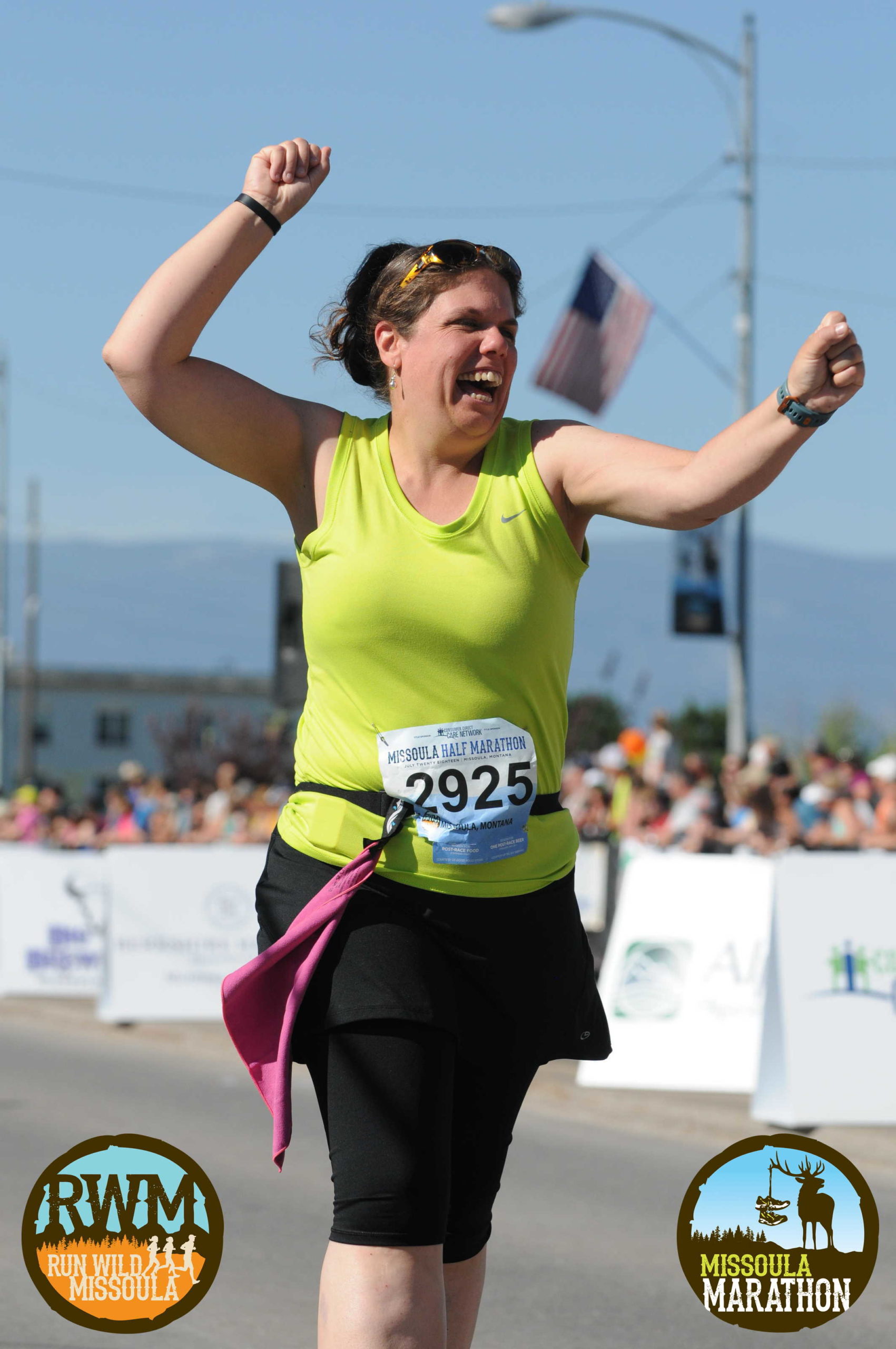 Run Wild Missoula's Annual Meeting of Members took place on Wednesday, September 12th. As always, part of the night was dedicated to our Member Awards. Our awards are based on the nominations submitted by you – our amazing collection of over 1,600 members. Your 2018 Member Award Winners are:
Male Runner of the Year – Michael LaForest: While he is not new to the running scene here in Missoula, Michael has made great strides in his running over the last few years.
"Michael has had an incredible year f running and is so extremely passionate about the sport. He has come a long wat and has been a motivating force for runners in our community."
"He works so hard, is so humble, and exemplifies what RWM is all about.
"With patience and persistence and a positive attitude, he had an amazing season culminating with a fast Missoula Marathon."
"The most improved runner of the year. He trains well and races well."
"A PTSD survivor and uses running as therapy. Running is the best therapy and Michael takes advantage of it. We all see that and use running as therapy for whatever negativity may arise in a day."
Female Runner of the Year – Ashley Cossairt: Most club members know Ashley as Run Wild Missoula's Operations Coordinator. She is relatively new to running, beginning in 2015, and tends to stays behind the scenes at RWM; often logging most of her miles early in the morning before heading into the office.
"While not at the front of races (she's getting closer) her rapid improvement is incredible to watch. A year ago, I don't think she had ever done a speed workout and now she cranks them out regularly and with passion. While being fully committed to her goals and training, she also finds a way to make it look fun."
"She is always out there, whether it is being in the background of the RWM races, or running them herself, she strives to be better. Her smile is infectious and inspiring!"
"Ashley has had an incredible year. It started with a running challenge to run 30 consecutive days last November and from there her progress and commitment to improve is amazing. Every race Ashley entered this year has been a PR, not just by seconds but by minutes. She has raced 5ks, 10 miles and half marathons over 6 months. It is very inspiring to see the hard work she has put in to training pay off. Ashley continues to push herself to test her limits and see her strength. I know I am one of many people who are inspired by Ashley as she has shared her journey of marathon training. We will be cheering loud in October from MT for her big race."
BOPer/Walker of the Year – Elly Foster: Elly joined RWM's Marathon Walking Class this spring to train for the Missoula Half Marathon. In the lead up to the big day, she also completed several of RWM's other races, and continues to participate regularly in local events.
"This past year, Elly prepared herself to be able to participate in 5ks by losing 50+ pounds. She began walking training alone, and then joined John's half marathon walking group on Saturdays and also walked with a small group on Fridays. Elly walked a few 5ks, and completed the 2018 Missoula Half Marathon by walking the route in 3 hours 43 minutes. If you have had a chance to see her finish line picture, you can see the pure joy of her accomplishment. She is continuing her walks and has found a new love for these races, although she says she isn't racing, she is just "enjoying her walk and meeting new people."
Volunteer of the Year – Danelle Gjetmundsen: Danelle puts in several hours each year coordinating the volunteers for the Missoula Marathon, in addition to volunteering at other Run Wild Missoula events.
"Danelle continues to be a striving force for volunteering her time, and directing the volunteers for the Missoula Marathon. She is an inspiration to all of us!"
Volunteer of the Year – Lisa Walser: Lisa will often come in to the Run Wild Missoula office to complete tasks like pricing Missoula Marathon merchandise, labeling Missoula Marathon awards, and many other very helpful tasks.
"Lisa may not be a face too many people recognize at races, but she is constantly behind the scenes helping out. Whether it's making cookies or spending hours in the basement labeling envelopes and sorting shirts, she's there getting it done."
Volunteer of the Year – Joe Melvin: Sidelined by injuries, this hasn't stopped Joe from continuing to volunteer for Run Wild Missoula events throughout the year. You can find him at most races helping as a course monitor or with setup and clean up. He also lends a helping hand to the Galloway Training Group with their spring training classes.
"Joe is a Super Volunteer. He shows up early, often, always, and goes above and beyond what a typical volunteer does. He actually finds work to do on his own, and works diligently to do his job as best he can."
Inspirational Runner of the Year – Margie Menendez: Margie spends miles and miles on various trails around Missoula, often inviting a variety of people along for the adventure. She also took on the big task of coordinating the Pacer Corps for the 2018 Missoula Marathon, completed the task successfully, and even hosted the group for dinner the evening of the marathon!
"Margie Menendez is more than deserving of this award. Whether you are in the running community or not, I don't know of another person who is more caring and thoughtful that Margie. From hosting a (huge!) party for runners after the Missoula Marathon to bringing goodies to various training runs to starting the iconic jump photo, we all have come to love and adore Margie. Margie was the coordinator for the pacers at the MM this year and she was one of the pacers. She had a tough race and I mentioned I was sorry it didn't go as planned. She just smiled and said in her sweet southern accent, "Oh Meg, what are you talking about? I had so much fun!". Margie is more than inspirational and more than deserving of this award. We love her."
"Does that girl ever take a day off?"
"She continues to go out and tackle mountains with so many different people, how can you not feel inspired by her positivity and love for running in Missoula."
Inspirational Runner of the Year – Deb Wonnacott: Deb has been part of Run Wild Missoula for many years, and continues to put in hundreds and hundreds of miles each year. She has been a Pace Group Leader for the Galloway Training Classes, and always brings her positive attitude and smile to every event she attends.
"Deb continues to strive for increased miles, year after year. Despite losing her husband over a year ago, Deb has turned her grief into a passion for pounding the pavement and trails. She is always up for new adventures, new races, and new travels. She inspires those that may be injured or slower runners by sacrificing her time to pace with them during a race. You will most likely find Deb's smile at every Run Wild Missoula race!"
"Strives to improve her running and helps with the Galloway training program."
Race Director of the Year – Amber Ball, Diva Day 5K: Amber has taken on one of RWM's biggest races and added her own twist of female empowerment. She continues to foster a positive and inclusive outlook on the event, and is constantly looking for ways to get more women and girls involved in Diva Day. In addition to being the race director, she often puts in many volunteer hours at other RWM events.
"I'm sure if you looked at the scoreboard, this would be a no brainer. I honestly can't think of anyone who helps out more in the running community. She's a superstar volunteer. In fact, this award should be renamed… perhaps the BALLER award? Or BALLunteer? But in all seriousness, Amber helps with so much. Every race, water stations for different training classes, packet pickups, registration… SHE. IS. EVERYWHERE! She took on the monster of diva day and nailed it. She does it with a lot of sarcastic humor and a whole lot of grace. You should know she's like this in real life too. She gives without asking. Always shows up (…often with cupcakes.) Truly a friend you can count on. She's humble and honest, kind and clearly generous. The only thing I have left to say is, thank you Amber Ball."