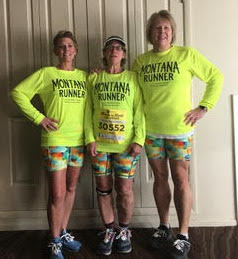 Where are you from? What brought you to Western Montana? 
All three of us currently live in Plains. Lisa came from the Conrad area and moved to Plains with her husband who works for Northwestern Energy.  Suzy has lived in Plains since she was young and I moved to Plains from Michigan when I was 10.  Suzy and I went to school together since 5thgrade. Suzy and Lisa worked together for several years.

When did you start running and why?
We started running about 2 years ago.  We did step aerobics together and there were times the space where the class was being held wasn't available so the class would go walking.  The class started to dwindle and then there were us three.  We started walking different routes and made it a point to walk every night.  It was great exercise, we all lost weight and it is cheaper than going to a therapist. We did Bloomsday in Spokane and then we decided that it would be cool if we could run instead of walk and the rest is history….
We really appreciate you participating in every RWM event over the last year!  What motivates you to make the drive from Plains for every race?
We love to come to Missoula to do the RWM events! Everyone is so positive, friendly and we just love the atmosphere!  We have traveled all over to races and we still love Missoula and the crew at Run Wild – you guys Rock!!  That is what keeps us coming back….and we get to shop after the race!
Who is the ring leader for coordinating your awesome outfits for each event?
Oh…the outfits!  We are constantly thinking of what to wear, so there is no ring leader, it is a mutual thing.  We thought that it would be easier for us to wear the same thing, in case we got separated! 
What is your most memorable running moment?
There are so many, some that include bladder control and pizza, but the details are blurry behind the tears of laughter! But, on a serious note, when we completed our first half marathon, that was truly a feeling of accomplishment for us since we had been the people that always said we would never be a runner!!
Side Notes:
The three of us have enjoyed running together and our families are so supportive, especially our spouses, who even surprised us at the finish line of the Missoula half marathon last year.  We love to travel to different places to race but our true favorites are in Missoula.  
Photos courtesy Shannon Benson