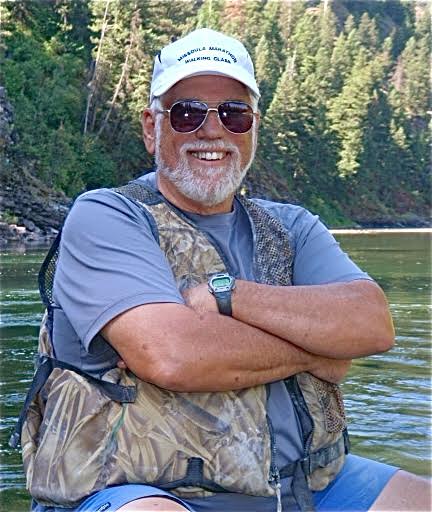 Where are you from? What brought you to Missoula?
I grew up in a small town in NW Missouri. Thence to South Dakota (BS degree), thence to Maine (MS degree), thence to Nashville area, thence to St Louis area, thence to Boise, thence to Washington DC, thence to Ogden, finally to Missoula to work for USDA Forest Service as a wildlife ecologist on grizzly bear recovery.
How long have you been walking? Why did you start?
I moved to Boise in 1978, and started running/jogging in 1979 until 2000 when I hurt my back. I started walking Missoula area trails in 2002. My first "Run Wild Missoula" half marathon with the walking group training class was in 2011. I completed each year since then, except 2019 when I had chemotherapy for non-Hoskins Lymphoma cancer treatments.
You were an active member of this year's Missoula Half Marathon Walking Class – what motivated you to keep walking?
Yes, I started the training with the group until it was halted due to Coronavirus. I continued with the walking training schedule. We had two 12 mile training walks. On those two days, I added 1.1 mile to the 12 miles to make the 13.1 half. I was weakened in 2019 with the chemo treatments and I was motivated in 2020 to return to intense walking for strengthening.
What is the best piece of advice you have received about walking?
It is easy to do with minimum equipment. You just need self-motivation. And it is easier on your body than running, less jarring/pounding.
What are you most looking forward to when classes, races, and other events resume?
The coaching and social activity with the group. My family lives in Boise. This group serves as my Missoula "family".
Where is your favorite place to walk in Missoula?
From my home in the South hills down to and around the University area.
Finish this sentence: When I'm not walking, I'm … hiking mountain trails, training/exercising my two Labradors, hunting, skiing or floating rivers. And I am a political/news junky. So I watch and listen to that junk. Not bad for someone that will soon be 80, I think!