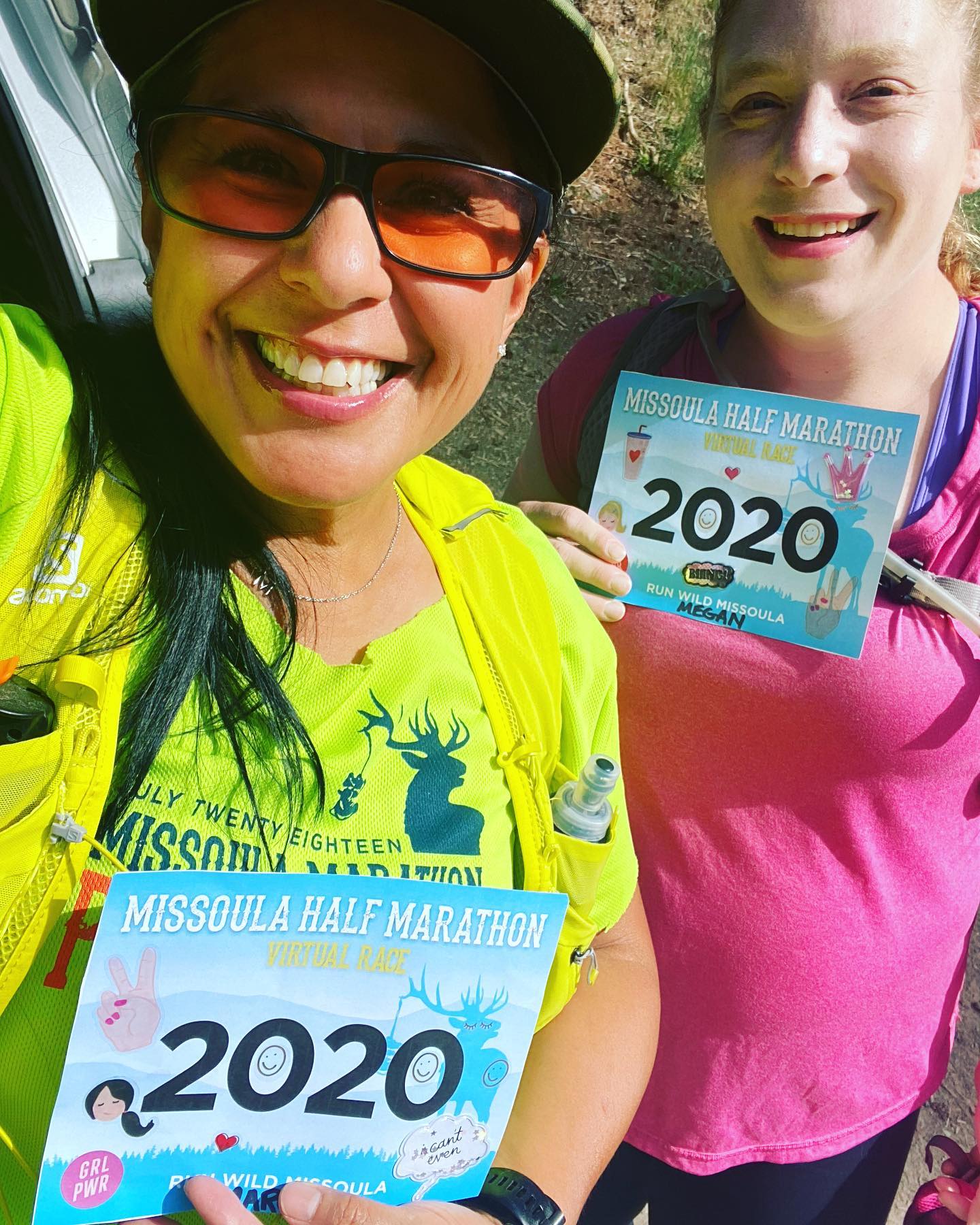 This month's Member Spotlight features the Winners from the Run Wild Missoula Annual Member Meeting. However, this year's awards look a bit different thanks to the Coronavirus pandemic. With few in-person races and volunteer opportunities with the club, we decided to make things a little more interesting. We are pleased to recognize 10 members for their athletic achievements, quarantine fun, and dedication to Run Wild Missoula.
Best Quarantine Hair: John Hart
Cutest Quarantine Pet: Murdock
Scott Samuels & Family
Epic Quarantine Adventures
Erin Clark & Sally Cannata: Undaunted by their planned supported Timberline Trail run around Mount Hood being cancelled, Erin and Sally figured out how to run their own shuttles and spent three beautiful days circumnavigating this PNW volcano with alpine vistas, waterfalls, alpine meadows and west side Cascade forest. They hope other Missoula community members will adventure west to the "super runnable and gorgeous 42-mile trail!"
Sara Boughner: Sara ran the Teton Crest Trail and established the women's unsupported FKT and at the same time broke the overall women's record on the trail. She ran the 39.7 miles in just over 9 hours with almost 10,000′ of climbing. The Teton Crest Trail provides incredible views of Grand Teton throughout the route while running along gorgeous, high alpine shelf plateaus.
Margie Menendez & Megan Barthelmess: Since the Missoula Marathon went virtual, Margie and Megan decided to do their own Virtual Missoula Marathon, but all on trails! They had so much fun, they thought "What the heck… when else could we do BOTH the full and the half???" So they completed the Virtual Half Marathon and 5K too! They called their accomplishment the "TREJA VU," completing the same loop in O'Brien Creek all while supporting RWM. That was a WIN-WIN! They even made personalized race bibs, custom homemade finisher medals, and unique finish line for each virtual race.
Community Support
Tamara Birdsbill: Tamara and her family helped clean up the local walking path, All Chiefs Park, in Browning, MT. While they were out, they also challenged other families to help clean up a portion of the path while out walking.
COVID-19 Hero
Kay Kramer: Kay organized a team of her friends to make thousands of cloth masks to support local nonprofits like the Missoula Food Bank, YWCA, and others, as well as local businesses. In total, it is estimated that they have used well over one hundred yards of fabric, and over forty tee shirts (to make the tie closures).
Riley Devins: Riley is the Principal of Frenchtown Intermediate School. While MCPS was scheduled to be on Spring Break the week Gov. Bullock issued a stay at home order in March, Frenchtown School District was not. In the course of 72 hours, Riley helped his entire district transition to distance learning, and organized a homework pickup and drop off schedule for lower income students who did not have adequate internet access or were too young to engage with online learning. He was at the school everyday, the one person who gave out and collected all of the homework each week, and he spent countless hours this summer creating a schedule for his school that allowed for both distance and in-person learning five days a week. He implemented numerous safety measures by himself, including adding four additional lunchroom areas to his school with partitions and marked seating, sectioning off the playground areas to keep students in pods while still allowing them to play, hiring new teachers to keep class sizes low, and creating a plan to keep everyone safe while keeping them engaged. Riley also ran the Beaverhead 100k in the middle of all of this, without much time to train and not nearly enough sleep.