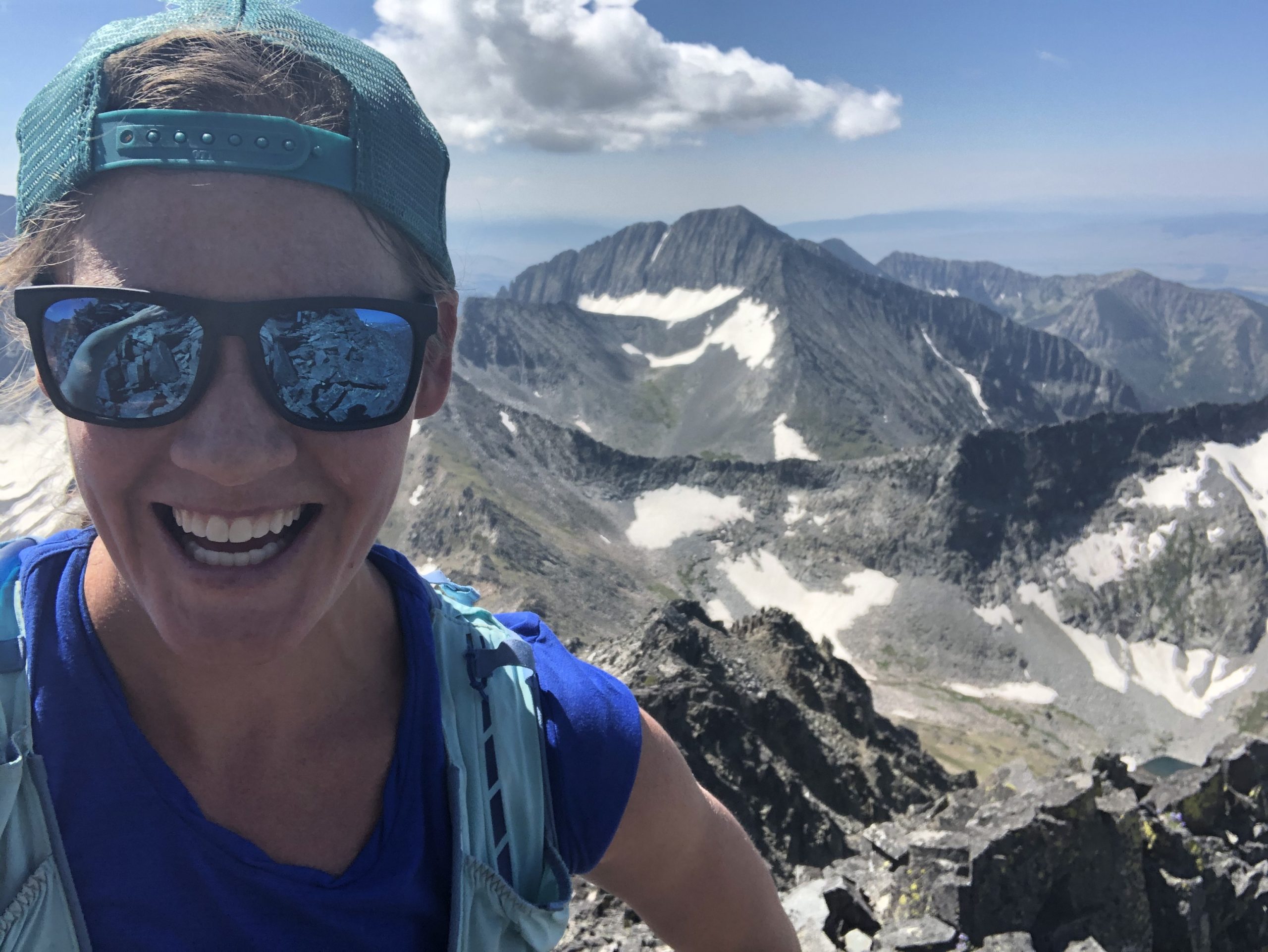 Where are you from? What brought you to Missoula?
I grew up in the Hudson Valley, NY but have been living out West in various spots for the past 10 years. I most recently moved from Vancouver, BC where I was studying Holistic Nutrition. After graduation, I had an extremely strong gut feeling that I MUST live in Montana. The components of this desire were: easier access to trails/mountains, a more tight knit running community, and, on a broader level, to be part of a more authentic community (no offense, big cities). It was between Bozeman and Missoula, and let's just say, I'm super happy with my choice. The community, life priorities, and trail access here is unparalleled.
You recently led one of our trail classes, thank you! What motivated you to get involved with RWM?
I had such a blast co-leading my first trail class with Josh – – big shout-out to our awesome group!
I knew I wanted to be involved with RWM during my second ever morning in town. I signed up for the Single Dip the night prior and as I crossed the finish line Tony announced how I was brand new to town. I remember being introduced to you (Ashley) right after the race by Amber, and distinctly remember sitting on the grass and listening to Tony announce the rest of the race(s). I was blown away by how warm, personal, and light-hearted his announcing was, and I told him exactly that when I introduced myself later on. Experiencing the energy that RWM and the entire running community radiates not only during my first race, but continuously throughout the year, is one of the things that I find makes Missoula impossible to leave. I couldn't have scripted a friendlier welcome.
You're a holistic nutrition coach. Tell us about your decision to launch Wild and Well.
My career choice stems from an intense desire to live a long, healthy, and (very) active life. Wild and Well is my Holistic Nutrition Coaching business in which I see clients one on one to help them achieve their health goals. Practicing holistically, we don't only talk about what to eat, but also about how you're eating, hydration, stress, sleep, exercise, community etc. It's a thorough, whole body approach that looks to get to the root of your symptoms. I work with a lot of endurance athletes (especially runners and long distance hikers), but also with people who are looking to get healthier and gain clarity on hot topics like whether or not eating a whole egg will actually damage them beyond repair. My goal for Wild and Well is to not only educate, but to empower people in making choices that support their overall health for the long-term. Mostly, I help people feel like their vibrant selves again, and it's the most fulfilling and inspiring work I could have ever created for myself.
What is your go-to mid-run snack for your long adventures?
This year I stepped it up from mostly bars to a more whole food, homemade option. My go-to has been a white tortilla with almond butter, banana, maple syrup, cinnamon, sea salt, and a different (sometimes rotating) special ingredient. Some special ingredients that made the cut this year were (in no particular ranking): granola, pretzels, peanut m&ms, pumpkin butter, and raspberry chocolate shavings. If it's more of a full on running adventure (think: jostling) and less of a hike/run adventure, I skip the special ingredient and keep the contents in the wrap as simple as possible. I'm ALL about optimal digestion while running (and always) so I save the fun stuff for when the hike:run ratio favors the hiking.
Speaking of long adventures, you've done some thru-hiking. What is the most unusual thing you have encountered while on the trails?
It's funny to be asked this question and notice which picture immediately comes to mind, so I'm going to share this initial memory. I was thru hiking the PCT in 2016 and was nearly finished, ~70 miles left till Canada. It was the middle of September, in Washington, early morning, freezing, and on top of a mountain pass where I saw the unusual, yet completely inspirational scene. A fellow hiker who goes by the trail name "Chips" was just waking up from sleeping on the ridge and was surrounded by over 10 bags of Kettle Chips. All flavors. He seemed just functional enough for me to inquire. He said he wanted to live up to his trail name and hike the remaining 70 miles on nothing but potato chips. And, to answer your burning questions: NY Cheddar was his top choice for breakfast and Sea Salt and Vin was his top choice for "anytime" eating. I haven't seen him since, but I have no reason to believe he didn't make it to Canada and has since lived a nutritionally optimal life.
What is your favorite local trail route to share with others?
I'm a big fan of Curry to Sawmill in the Rattlesnake — especially this time of year. I love starting with the long climb, breaking a sweat, and then being struck still by the beauty of the larches at the beginning of the (super fun) descent into Sawmill
Finish this sentence: When I'm not running, I'm…
Lying in the creek OR nerding out on nutrition research!