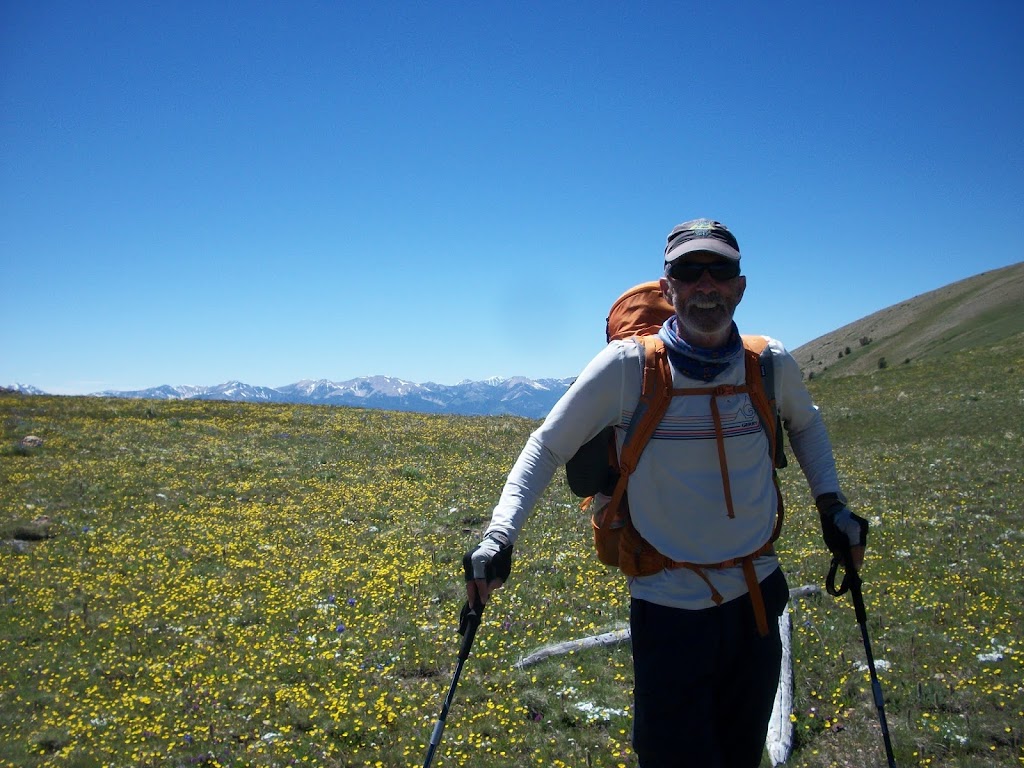 Summer on the CDT Part 3: Lima to Bannock
by Tim Mosbacher
Missoula runner Ken Ellis on the CDT
Getting up to leave Lima was difficult. Resupply was always so relaxing, but rushed at the same time. With limited time to eat as well as repacking the packs and cleaning up, time just seemed to fly. We drove back to our previous day's pick up spot with the notion of having an easy day ahead of us. When driving over Monida Pass, we thought the hills looked so friendly. How wrong we were.
Crazy hills southwest of Lima
We started off with the plan of running the first eight miles of road. Becky Riley would run with us, while my wife would meet us where the trail exited the road. The run was relaxing, and we thought we would get a big jump on the miles and have a huge day. Immediately after putting on our packs, we started hiking straight up. I had not looked at the elevation gain on the map. The trail wasn't a trail, but a 1.5-mile fence line heading up a 1500ft ridge. I just put my head down and challenged myself to make it to the next sage brush, then repeat, and repeat again. Luckily for us, despite having no shade, there was a cooling 30 mph breeze.
We quickly realized our hopes for having a big day were not to be fulfilled. The "trail" followed a ridge for only eleven miles, but that ridgeline gained and lost 300 ft about every quarter mile. By the time we headed down to a stream, we were out of water and at 8900 ft of elevation. At the end of the day, we had only gone 25 miles with basically an eight-mile head start. We joked that after eight days and 176 miles, we still had not reached the 200+ mileage that Todd Bachman runs for fun on a weekend.
Camping the first night of this section posed a dilemma we had not faced before. Is it better to cross a big stream before you camp and have to get into wet shoes in the morning, or camp before the stream and have a crossing immediately in the morning? We opted to camp before the stream in a nice spot, but crossed the stream anyway in an attempt to get cell service. I had bandaged my heel before this crossing and thus the bandage did not stay on.
In the morning we awoke surprisingly rested and without soreness from the previous day. The morning started with a three-mile 1600ft climb topping out over 9000ft. The Beaverhead Mountains were kicking our butts. We soon lost 1200 ft, then gained 800 ft. You get the idea. We got lost for a short time on a hillside covered in flowers and with no visible trail. It was beautiful but hard work. We would try to spot a cairn in the distance and then make our way through the flowers.
Miles of Flowers
In the middle of nowhere we encountered a guy on a bike, our first person in 70 miles. We talked with him a bit and later came across his camper parked at Bannock Pass. This "Bannock Pass" became our biggest issue of the entire thruhike. Our next resupply was supposed to be at Bannock Pass. I was really troubled about how I could have made the mistake of saying that the resupply would be at Bannock Pass, and here we were at Bannock Pass after just one day. In our confusion, I just needed to read the map correctly and it would have told us there were two passes named Bannock. Instead we called Becky Riley and said it might be Lemhi Pass, rather than Bannock Pass.
Onward!
We continued on to Deadman's Lake. It was wild because we followed for some time the tracks of someone who drove a jeep, through the woods straight up the mountain and then skirted the side of another. Crazy. We jumped in the lake but decided since it was not dark to climb out of the valley for another 26-mile day. We camped in an open field around 8600 feet and just slept under the stars. The sky was so clear that night without any light interference.
Ken's view and setup before a night under the stars
The next morning we crossed a beautiful ridge below the highest peaks of the Beaverhead Mountains. We entered a valley that contained Nicholai Creek. This creek was stunning. We passed the Harkness Lakes as we climbed to nearly 10,000 feet. When we got to the top of the ridge we heard a noise that was definitely not natural, but incredible. Swooping BELOW us were two F15s from Mountain Home Air Force base in Idaho. It was incredible to look down on the planes as they whipped through the openings in the mountains. We were dazed.
Ken heading down Nicholai Creek Drainage
Not long after, we came across probably the biggest herd of elk yet, about 60 head. We got pretty close before they trotted off. Later, as we ate our 5:00 snack, we encountered thick mosquitoes for only the second time on the trip. We had been lucky as far as bugs went. That night we set up camp after only a 21-mile day on a ridge at about 9000ft. As we lay in camp, about 15 elk appeared and headed straight toward us. They had their heads down eating and just kept walking toward our camp. We were unsure if we should let them keep going, but when they were about 30 yards away, they turned slightly and disappeared. Later that night, the moon was so bright that I thought Ken was shining his headlamp into my eyes.
On the fourth day we awoke with very little mental energy. We were originally going to be resupplied on this day, but since we got behind a little the first day of the section, we had delayed the meetup until the next morning. We had 31 miles to go until the pass, but wisely determined it would be best to put it off until the next day. On the bright side, we had now hiked more than Todd Bachman does on a weekend!
We were able to make good time due to much of the trail being on jeep trails or road. Once again, as we climbed to 1000ft (Horse Prairie Mountain) around noon we heard the distinct sound we had heard the day before. The F15s this time came through a canyon, and we were about level with the planes. We waved, but the pilots were probably focusing on turning through the valleys. We were in awe. At that point, we thought the trail went down the mountain, and so we descended around 1000ft before realizing our mistake. It was a tough physical and mental grind back up.
We got on a ridgeline featuring its own problems. As is typical for ridgelines, water sources were farther and farther apart. Melting snow from snowbanks became a steady source of water. Thruhiking quickly became the foundation of Maslow's hierarchy of needs: food, water, and shelter.
On the ridge and heading down toward the water source of snow
We made it 27 miles (not counting our trail error) and set up camp. We were only six miles from the resupply junction, but our bodies had made it as far as they could go, and it would be easy to hit those six miles in the morning. Once again, we got rained on all night.
In the morning, we quickly hiked the six miles, dried our gear, and awaited Becky Riley and our resupply.
Drying gear and awaiting resupply at Bannock Pass