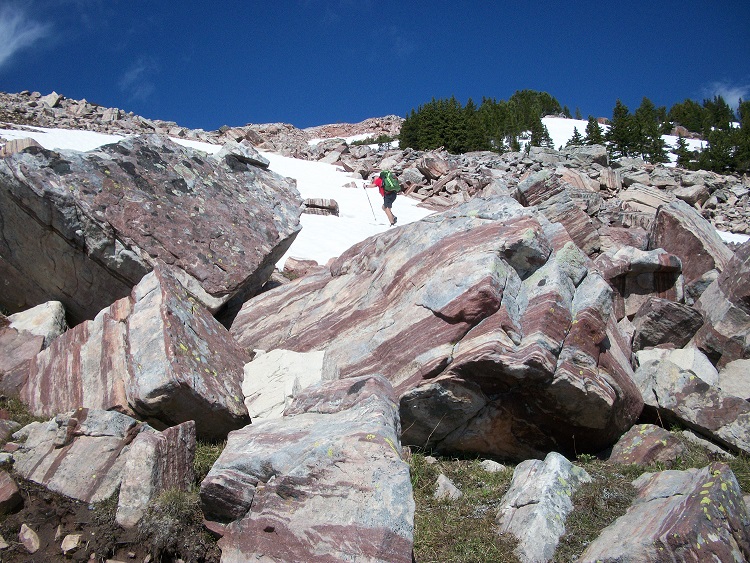 MTC Note: Missoula runner Tim Mosbacher loves a challenge. After completing his quest to finish marathons in all 50 states, he found himself dreaming up something new. The following report is the first installment of a multi-part series recapping Tim's journey on the Montana section of the CDT with his running buddy Ken Ellis. Check back in the coming weeks to follow the adventure unfold.
In the summer of 2018, Ken Ellis and I started a journey of hiking Montana's 1000-mile section of the Continental Divide Trail (CDT). This is our story. We would be remiss if we did not acknowledge the difference between our hiking just Montana and those who have thru hiked the entire trail from the Mexican border of New Mexico to the border of Canada. Those of our friends, as well as those we do not know, who have completed the entire trail (as well as the Appalachian and Pacific Crest Trails), are truly physical and mental giants. I always kept in mind on the trail something thru hiker J Reilly told me: "Do not think you are anything special when you get into town. All you have done is gone for a walk."
Our story has two possible beginnings. I believe it started on a run up Mount Sentinel with a couple of running buddies, one who was Ken Ellis. Ken stated that he would love to hike the Montana section of the CDT trail. He explained he wasn't getting any younger and he needed to try it soon. I, as someone who was retiring that year and being a giving person, told him I would love to help him out. I am a man of my word, and I would not let him down by backing out. Soon after, my wife bought me a tarp and jacket to go on the jaunt. I was in.
Ken believes the story started on that same run, but with me saying I wanted to hike the trail as a retirement celebration. He maintains that he joined the trip as a way to help me with my retirement. This debate about our journey's inception would sustain us about four hours a day once we began.
It begins with a handshake
Neither of us had backpacked more than three or four days. Both of us started buying gear and food, talking to others who had thru hiked, and making an itinerary. We heavily relied on Forrest and Sara Boughner, J Reilly, and Tod Bachman, and had them review our itinerary and supplies. Monday, June 18 was set as D Day with a start at Old Faithful in Wyoming.
To be honest I was nervous and afraid, but nonetheless we arrived in Yellowstone National Park and registered for our one night of in-park camping. The rangers were excited for us, as we were the first thru hikers registering for 2018. They informed us that they had no idea of the trail conditions ahead of us and that we would be the only ones heading that direction. Boy were they right.
We started around 1:00pm, with only eleven miles to hike that day. We were going to ease into it. It wasn't much of an ease in. We started with it sprinkling, then a downpour. I immediately had to put on all of my clothing just to stay warm. We were surrounded by tourists, but the trail was not marked, and we immediately had to consult our maps. It was so beautiful, but cold and wet and we had 1000 miles ahead of us. We said goodbye to our "Beckys" after two miles. It was tough to see them go the other direction, toward a warm car.
It was pouring rain as we crossed Highway 89 and entered the Biscuit Basin. There were a lot of people scurrying around in the rain, but we kept going and passed them and the geysers. We hit our first trail junction soon after. Our trail veered to the left, with Mystic Falls to the right. Ken went to the right. I stopped him and we had an interesting discussion about trail arrows. In his defense, trail markings are oftentimes confusing. We immediately dropped into a depression and had to wade over, under, and through the Firehole River. We had gone 3.5 miles and I was miserable. My mental strength was under attack and there were only 996.5 miles to go.
Snow for days
After a while the rain stopped, and our speed and spirits picked up. It was short lived. We had now hit waist deep snow, with a difficult-to-follow trail. Many people imagine the CDT as this clearly marked trail with nice signs. For starters, the national park does not allow CDT markers, so the trail was indicated by orange markers. The hunt was on in the snow. Luckily the snow only lasted for about two miles and we arrived at our camp spot at Summit Lake around 6pm. Not enough time to dry out our gear, but just enough time to eat and to get ready for the next day.
Fist night. Typical setup.
Day 2 we awoke to a sprinkle and wet clothes. No matter, as the day started with a one-mile slog through a marshy swamp. This thru hiking was starting to lose its appeal. Once we left the marsh, our spirits rose for a few minutes until we struck more snow. We had hit a cool geyser area, but at 8600 feet, it was covered in snow. More waist deep snow. We struggled through the snow for around four miles and then we hit the Montana border!
Fortunately we were now on an old road and could make some time. Ken is a fast walker, and I just tried to keep up. On trails he was always polite and let me lead so I could control the pace. The roads were crazy. They were mostly closed to cars but used by snowmobilers. There were so many snowmobile parts strewn across the miles of road, we predicted that if we could gather the parts, we could build a complete snowmobile.
First CDT sign in Montana
Sometime around that day's 22nd mile, a storm hit. We cowered under a tree as it poured. Somehow we were able to get cell reception and we called our Beckys. This was one of the lowest points for me. I was cold, tired, and wanted to quit. I might have even cried a little. After the storm passed we went another two miles. We realized we had lucked out, as huge hail was strewn everywhere on the road. It was a sleepless night as my pad got a hole and Ken slept so well he snored the entire night. The drawback of sleeping under the same tarp.
Going up
The third day we started to get our groove. It was sprinkling when we awoke, but we were getting the hang of our routine, so tearing down camp went quickly. We would wake around 5:45 am, take around five minutes to get out of our bivy sacks and eat dry food (pop tarts) while tearing down the tarp and packing our packs . We would be on the move by 6:15. We usually did not talk much during this time.
Artifact on the trail
We had five easy miles of road to start the day, then would be heading north to the Two Top Divide, a popular winter snowmobiling destination. A few miles before Two Top, we found a snowmobile left behind in the woods after a tree accident. Soon after we had a unique experience. Ken had no sooner said that this looked like great elk habitat when we were startled by the sound of something crashing through the woods. It was a huge bull elk which was no more than 20 yards from us. The elk stopped, startled by our appearance, and then proceeded on. He was quickly followed by four more bull elk, each stopping and proceeding in turn.
On this day, like all the proceeding days, we would stop to eat around 11:00am. By then we would have covered usually 11 to 16 miles and would be hungry after eating such a small breakfast. We would usually stop if the sun was out so we could dry our gear while eating (Mountain House meal for me, while Ken had his first coffee and usually oatmeal). Due to the amount of work to take out and hang up gear along with eating, this stop would last around 45 minutes to an hour. On this day, we stopped right below Two Top in the grass, next to a stream, in the sun. It was like the picture you see on a Mountain House meal, except we were more tired and dirty.
Terraces on the mountains
Eight miles after lunch we crossed Highway 20 that leads to West Yellowstone. We stopped on the other side of the road and while eating our early dinner (for me a flour tortilla and some beef sticks) and watched people take their pictures at the "entering Montana" sign. I was jealous. They were comfortable, smiling, drinking soda, etc. We put our packs back on; we had more miles to go. We hiked through a valley that had ant hills as far as you could see. I have never seen so many in one location. Then while taking a break and talking to our Beckys on our phones, the strangest thing happened. A runner came up the trail. He would be the first and only person we saw on the trail for the entire 76-mile section.
After another mile, around 7:00pm, we set up camp on a ledge. As the daylight faded, West Yellowstone appeared in lights in the distance. It was incredible.
We awoke early to a beautiful morning. We had camped at around 8700 feet and were above an inversion over West Yellowstone. Vacationers were probably grumbling about the weather while we basked in sunlight. We set off on an aggressive pace as we would be being resupplied today at Raynold's Pass. The day ended up being one of the most beautiful of the trip as we hiked along a ridge above Targhee Creek. At one point the entire mountain side was terraced for some reason. We saw elk and mountain goats, and followed grizzly prints down switchbacks. After about nine miles we lost the trail in deep snow.
We were above 9500 feet and just north of Targhee Peak. We found some faint footprints and tried to follow our cryptic map the best we could. Eventually at around 10,000 feet we came upon a huge boulder field that we had to navigate. This ended up being easier than what was to come. We hit a snowfield on a pretty extreme slope. It would be a long way down if you made a mistake. Fortunately we made it up and over the pass in time for some lunch.
The water supply
Amazingly we had cell service and we called my wife and asked her to bring us a pizza and some sodas. Our plan was to meet her at Raynold's Pass at 3:00, resupply and keep on our way. We had extra spirit in our legs. The sun was shining and I was excited to see my wife and get our first resupply. As we neared the pass, dark clouds appeared in the west. We continued our rapid pace and got to the pass about half an hour early, just before the clouds opened up with a wind storm, hail, and a pounding rain. We huddled under the historical sign at the pass and watched people drive by in warm cars. Some would stop, including a woman who sat in her pickup smoking as we got drenched.
At 3:00, Becky showed up. We were defeated and asked her to take us into Ennis so we could dry off in a hotel room and get a meal. No sooner than ten miles driving down the road, the sun came out. We ate the pizza she picked up, got a room, dried our gear, and ate another dinner in town. Being in town was refreshing!
Pizza couldn't come soon enough