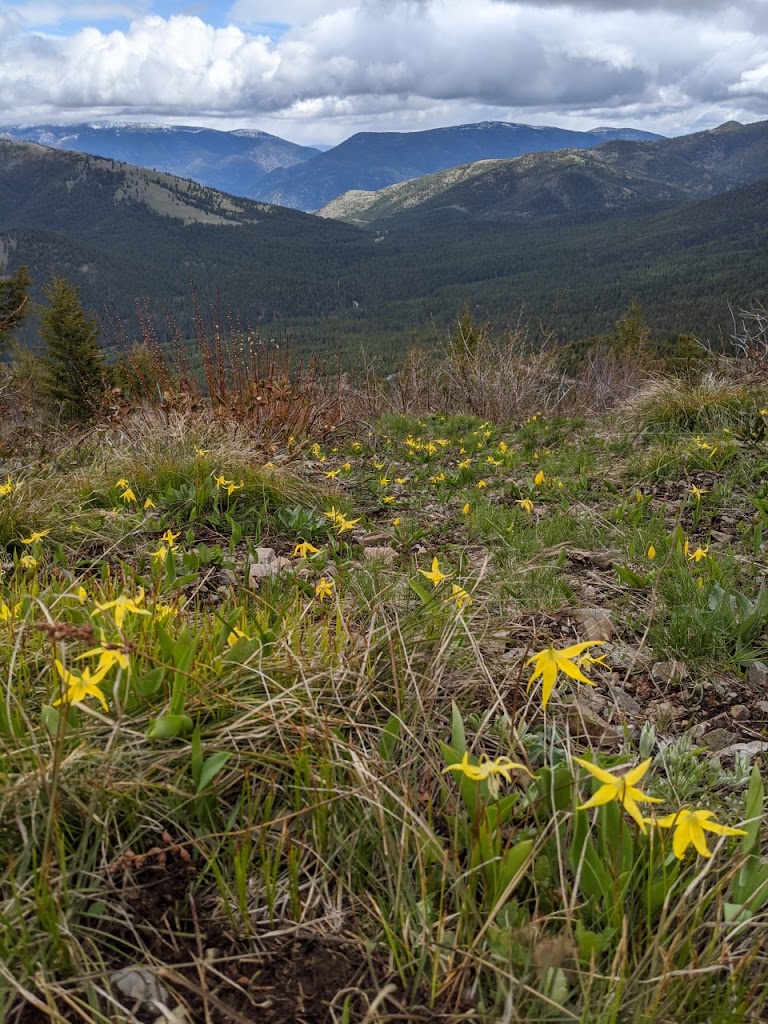 With the completion of some additional volunteer days and a few procedural steps, this new trail on Mount Dean Stone should open to the public in time for users to see the glacier lilies bloom. Credit: Brian Williams
Everything has aligned for new singletrack trail on Mount Dean Stone
2021 might be the most hyped year so far this century, with good reason. As Missoula-based trail runners we have something significant to look forward to this year – the opening of a new trail on newly acquired public lands in Missoula. This spring the High, Wide, and Handsome trail on Mount Dean Stone is slated to open. The trail was built through coordinated efforts of MTB Missoula and Five Valleys Land Trust last summer and fall, which included help from many volunteers and funding from Run Wild Missoula. All accounts suggest that the trail lives up to its name!
High, Wide, and Handsome will connect the lower portions of Mount Dean Stone's system (Barmeyer and Sousa trails) with the upper reaches of the mountain, ending in a loop just below the true summit. The trail is nearly five miles long and has been built with a moderate 8% grade to accommodate hiking, biking, and running. It winds upwards through ponderosa, larch, and Douglas fir forest, and won't be as exposed as city-side trails on Mount Jumbo and Sentinel. There are numerous spots along the trail that provide spectacular views across the Missoula Valley, as well as views to the east, including glimpses of the Blackfoot River.
A view of the Bitterroot Range from High, Wide, and Handsome. Credit: Brian Williams.
I can't wait to enjoy this trail in the fall when the air is crisp and our larch are bright yellow, but I promise you I won't wait that long to give it a try. An opening date for the trail has not yet been set, but an early December 2020 unanimous vote by the Missoula City Council to utilize 2018 Missoula Open Space Bond funds and private funding to complete the land acquisition set the final pieces in motion to guarantee 2021 access. Many runners from our community reached out to their city council members in support of this acquisition, and our voices contributed to this positive outcome. And this wasn't the last opportunity to personally get some skin in the game to improve public trail access on Mount Dean Stone. If there are additional volunteer days to prepare High, Wide, and Handsome for public use we'll update this post with that information, as well as an update about the scheduled opening date when that becomes available.
2019 Access Map provides an overview of the area. Full resolution version available from Five Valleys Land Trust
High, Wide, and Handsome won't be the end of this project either. The next phase, for which Five Valleys Land Trust has already secured partial funding, is an additional five miles of trail that will connect High, Wide, and Handsome to the top of Deer Creek. I've had a chance to walk the proposed site of this next phase of trail and the views were inspiring! In just a matter of years, it will be possible to link single track on Mount Dean Stone to the Pattee Canyon system and Mount Sentinel's trails via a few miles on a dirt road. Thanks to the foresight of citizens who have voted for open space funding, organizations and individuals who have contributed additional funds, non-profit organizations doing the complicated work to acquire new public lands, trail engineers at MTB Missoula, and volunteers who are willing to get dirty creating these new trails our remarkable public trail system is about to even more comprehensive.
– Erin Clark, Run Wild Missoula Board of Directors