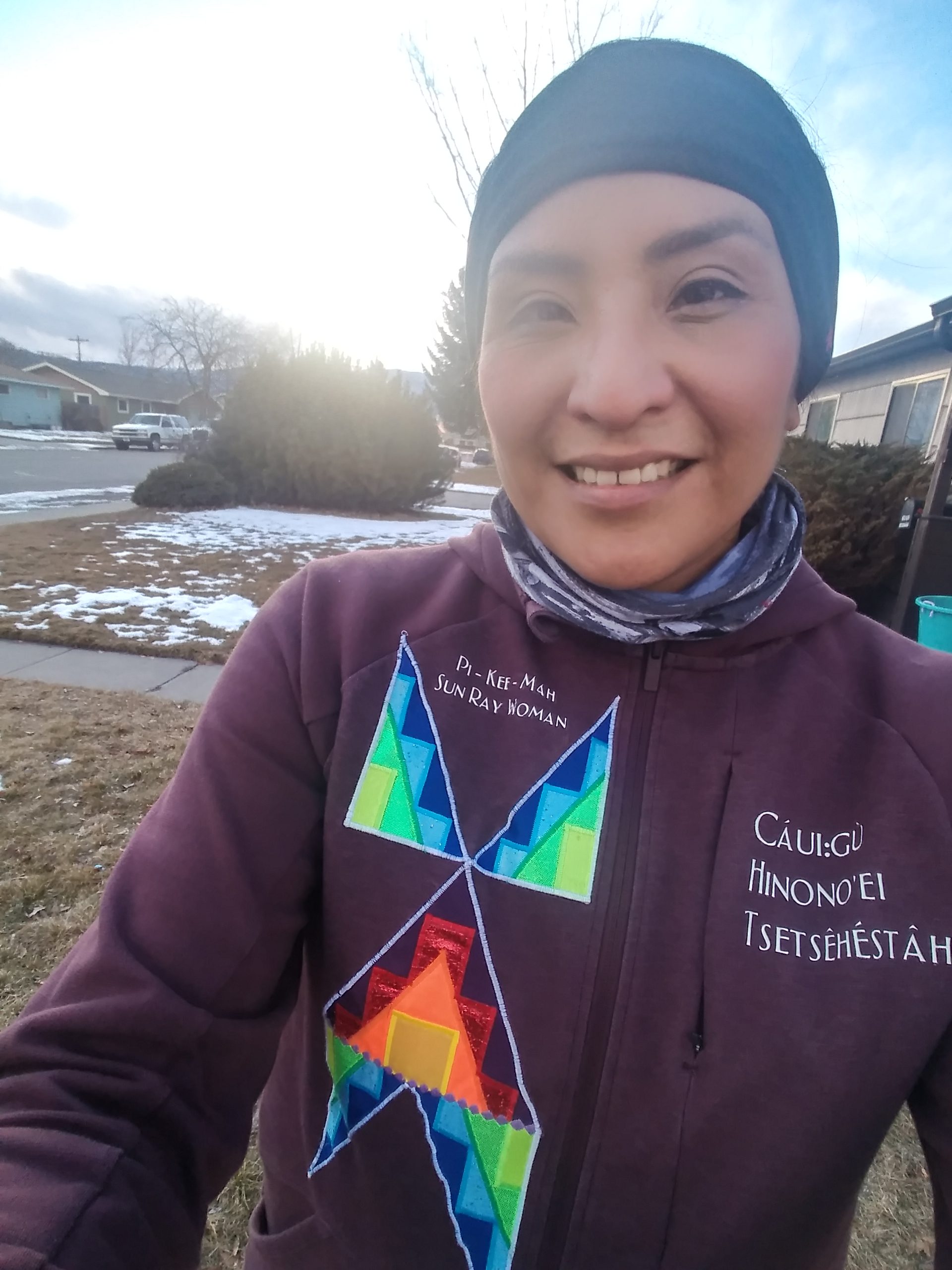 This month's member spotlight features Crystal White Shield, who grew up in Northglenn, Colorado but is originally from Apache Y, Oklahoma. She is an enrolled tribal citizen of the Cheyenne-Arapaho Tribes of Oklahoma. She also represents the Kiowa Tribe, also from Oklahoma. After she officially moved to Missoula 2013 with her kids, she went on to get her bachelors in Management Information Systems (MIS) at the University of Montana. Aside from spending some time in Browning on and off throughout the years, Missoula is home for Crystal and her family.
Crystal joined Run Wild Missoula in 2015 but her passion for running really started in 2008 to create more space for herself and a
way to destress. As time went on, her relationship with running grew into something more meaningful, it became a way for her to honor the lives of her late father and daughter, who both passed after battling influenza. Running has provided the space for Crystal to process life and death, remembering the words of her father who always reminded her to keep running. A quote that she lives and runs by is "never take your ability to breathe for granted." As a person living with asthma, she's turned that struggle into advocacy and encourages people with asthma to exercise as a way to strengthen those muscles that allow breath to flow with more ease. Her late daughter, Allison, also struggled with asthma and that has given Crystal immense motivation to continue running. The hashtag #Run4Allison is a recurring hashtag that concludes Crystal's social media posts as a reminder of what grounds her in her running. Crystal's youngest daughter, Daisy, who is in the first grade has started to take a liking to running. One of the most wonderful aspects of running is that it can so easily dance between being necessary for solo solitude and being shared with others!
While living in Browning, Crystal was a more avid trail runner and her most memorable running route to this day remains tucked behind a water tank in an under visited part of the town, called Cemetery Run. The 2-4 mile loop checks all the boxes of a fun but challenging route, with steep uphills and downhills, the occasional stream crossing, and obstacles such as barbed wire and snakes. Although she hasn't been back to run that loop since 2014, it has stayed with her over the years as one of her favorite and most memorable running routes. To date, Crystal's favorite race she has done was for her ancestors during the 2019 Sand Creek Massacre Memorial Run. She ran from the Sand Creek Massacre site in Eastern Colorado, to the Colorado State Capitol in Downtown Denver. It was particularly important for her feet to touch the earth where her ancestors once roamed, to breathe in the air they once breathed, and to connect herself to the ancestral lands of her people. It was one of the most rewarding experiences of her lifetime. To this day, it brings her to tears remembering her ancestors that were tragically killed that fateful day on November 29, 1864. Every step she took was a prayer, and claimed victory over the 7th Cavalry that tried to exterminate her people that day. Despite the atrocious and oppressive efforts by the 7th Calvary, her people are still here. Lately, she's been circling back to her love for trail running, so much so that she's signed up for the BigHorn 30K this summer with some friends. She's excited to train not only for the mileage but also for the altitude. Moreso, it means a lot to Crystal to run on the lands, and sacred mountains, that originally belong to her companion's people, the Apsaalooke (Crow). She encourages runners to always acknowledge the lands that you run on, that they are ancestral to Indigenous peoples. Take the time to research the lands you will be running on, and be mindful that those sites may be sacred to Indigenous people. Aside from the BigHorn, she's still deciding if she wants to tackle a road half marathon this summer!
It's no secret that the pandemic has certainly taken a toll on us all and sometimes motivation can be challenging. Crystal's antidote to waning motivation is consistency. After long days of zoom calls and screen time, a new normal that we've had to adapt to and fight off the zoom fatigue, Crystal says her mind is tired but physically she tries to push through. Having a treadmill at home has been a lifesaver for her in bad weather and during shelter in place. When weather permits, Crystal enjoys discovering more routes that she's been curious about in her own backyard but never found the time to explore them. The numerous virtual runs and races that became accessible during the pandemic have encouraged exploration. During the Snowy Stride 12K, she pieced together a new route from her home to Fort Missoula and back that has since become her go-to running route in Missoula .
When Crystal isn't running, she enjoys relaxing at home watching Ghost Adventures or Dead Files, cooking, and baking. She's also a
Jingle Dress Dancer in the powwow circuit and participates in the traditional ceremonies and dances of her Kiowa people, which are currently on hold due to Covid-19. Outside of running, Crystal has found another passion in the last year which is the incredible work she does for the Missoula Food Bank & Community Center as the Director of Community Organizing and Equity. The pandemic has illuminated countless unknowns, which motivated Crystal to embrace change and apply for the position at the Food Bank. When she found the job posting, something in her clicked and she thought "I can do that!" Little did she know how much joy and passion she would find not only in the job itself but also in the community. Much of her work is centered around equity and tackling big issues in Missoula such as anti-racism work, health equity, housing equity, food insecurity, etc. These are no small tasks for anyone or any organization. However, the community and her team at the food bank make it all worth it. What has surprised Crystal the most since working at the food bank is that there is so much work that goes on behind the scenes that most people don't get to see. She is abundantly grateful for all of the tireless hours put in by staff and volunteers that help keep the engine running. The workplace culture is one that fosters inclusivity and collaboration, which feels like a refreshing environment to be immersed in. With all of the additional challenges and changes that the pandemic has brought for most folks, the food bank continues to operate in emergency food assistance mode. Crystal emphasized the importance of eliminating barriers so that more people who are facing challenges feel safe utilizing the food bank as a resource. She wants community members to know that the minute someone walks through their doors, it's a no judgement zone.
You can read more of Crystal's work at the Missoula Food Bank & Community Center here, as well as this article she co-wrote for the Missoulian about the conflicting history of Thanksgiving.
The Missoula Food Bank & Community Center is currently operating in emergency food assistance mode. If you or someone you know is in need of food assistance, the food bank is open and a wonderful resource. They continue to offer critical programs such as the ROOTS Program for Seniors which provides home food delivery to home-bound seniors and the Kids Em-Power Pack Program for kids which is a weekend nutrition program to help kids stay healthy outside of school hours. Please visit their website to volunteer, donate, and learn more!