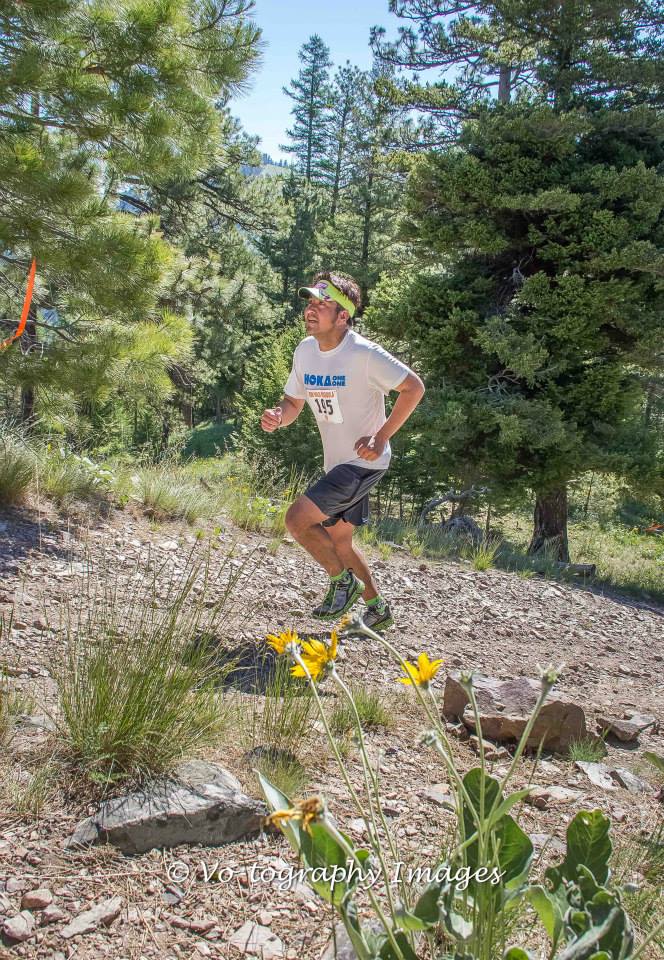 This month's member spotlight features Russell LaFontaine. Russell has been a long time, active Run Wild Missoula member. He joined Run Wild Missoula in 2012 after completing the Missoula Marathon the year prior, which spurred his interest in racing. Russell grew up amongst the sandstone Rimrocks in Billings, MT but made Missoula his home in 2004.
For employment, Russell is an attorney in Missoula, MT. In many ways, he was destined to be a lawyer. As a child, his mother foreshadowed his career in law or medicine at a young age. Teachers of his were also quick to pick up on Russell's whit. Growing up his dream job was to be a forest ranger for the USFS, but when he got to college that changed. He was talked out of being a forest ranger by his father because of a lack of employment opportunities in that field. Instead, Russell was encouraged by his father to go into Business Management. After four years of collegiate work, there was still some lingering trepidation about the pursuit of business management. Two years out of college, Russell found himself sitting
around a campfire under a blanket of stars talking to some friends about next steps in life. As soon as he returned from the camping trip, Russell immediately bought a study guide for the LSAT. That camping trip changed the trajectory of Russell's life. He went on to graduate law school at the University of Montana School of Law and passed the bar in 2003. His career in law started in Billings until he found an opening in Missoula in 2004 as a public defender. Working as a public defender is no easy load, often requiring long hours and an array of clients. Many people might crumble under the pressure and responsibility, but not Russell. His priority is the objective well-being of his clients. Furthermore, he works tirelessly for his clients with an immense amount of empathy. The reality is that people are complicated and it's important to Russell that he meets his clients with an understanding of who they are as a person regardless of their legal bind. Although the work is challenging and people often have misconceptions about what legal counsel entails, he finds his work equally as rewarding. He equates it to a surgeon performing surgery, it's meticulous and requires a lot of emotional energy but it's empowering to know that you've improved the quality of someone's life. Better yet, Russell enjoys his work and takes a lot of pride in the impact he can have on someone's outcome. Sometimes all you need is a little time by a fire under the stars to keep everything in perspective!
Although Russell works as a Public Defender for the state, when he's not in the office he is a seeker of solitude. His passion for activity started in the 90's as an avid walker, hiker, and runner. He grew up playing basketball, football, and baseball but something changed when Russell completed his first marathon in 2011. It wasn't just any marathon though, he chose the Missoula Marathon as his introduction to the sport. He felt the attraction of the challenge and a craving for more. Since then, Russell has gone on to run countless marathons, including marathons in 11 other states. He's completed the Missoula Marathon eight times and helps lead the pacing group for the four hour and ten minute group. His passion for running doesn't stop on the pavement though, Russell splits his time between roads and trails. When he's not running from his house in the South Hills to downtown, you can probably find Russell cruising the main corridor of the Rattlesnake Recreation Area. He's had quite the wildlife experience during his time in the Rattlesnake, including at least 7-8 bears, a moose and calf, and sharing first tracks with a mountain lion. Although we're only three months into 2021, Russell has already logged over 500 miles on his running shoes. Last year alone, Russell put in over 2,500 miles of road and trail running.
When the pandemic really started to sink in last March and April, the motivator that kept Russell on the roads and trails was fear. There were countless unknowns last spring about the virology of COVID-19 and early studies indicated that staying fit would give people a fighting chance of pulling through the rigors of COVID-19 symptoms. For Russell, his internal monologue was telling him to keep pushing the miles and workouts. Some old habits changed and some new ones formed. Normally Russell wouldn't think twice about picking up trash left road or trailside, but the pandemic has given him pause. On the flipside, the motivation to consistently run created a new habit for Russell. It just became part of his day to day. Sometimes while he's out running, he finds himself ruminating about tomorrow's run or route. Running has come to play a large role in Russell's life, whether it be seeking solitude or enjoying the active community in Missoula. The increase in knowledge about COVID-19 has soothed the fear that previously took hold of Russell, he has eased into a comfortable routine that gives him a powerful outlet to enjoy the act of movement. Russell is now fully vaccinated against COVID-19 and better informed about COVID-19 in general. He has no problem returning from his runs with more litter in his pocket than he started with. Although Missoula is just transitioning from winter to spring, Russell is well into his training for the upcoming racing season. He's got some big endeavors on the calendar, including the Beaverhead 50K, Elkhorn 50K, and The Rut 50K.
If Russell isn't running or working, he's usually spending his time resting, volunteering, or involved with his church community. He's devoted a number of hours giving back to the running and walking community, he finds as much satisfaction out of volunteering as he does racing. Russell works part-time for Grizzly Athletics and enjoys working or interacting with the Athletics administration employees, other Griz Events Staff employees, various coaches, student athletes, and fans.