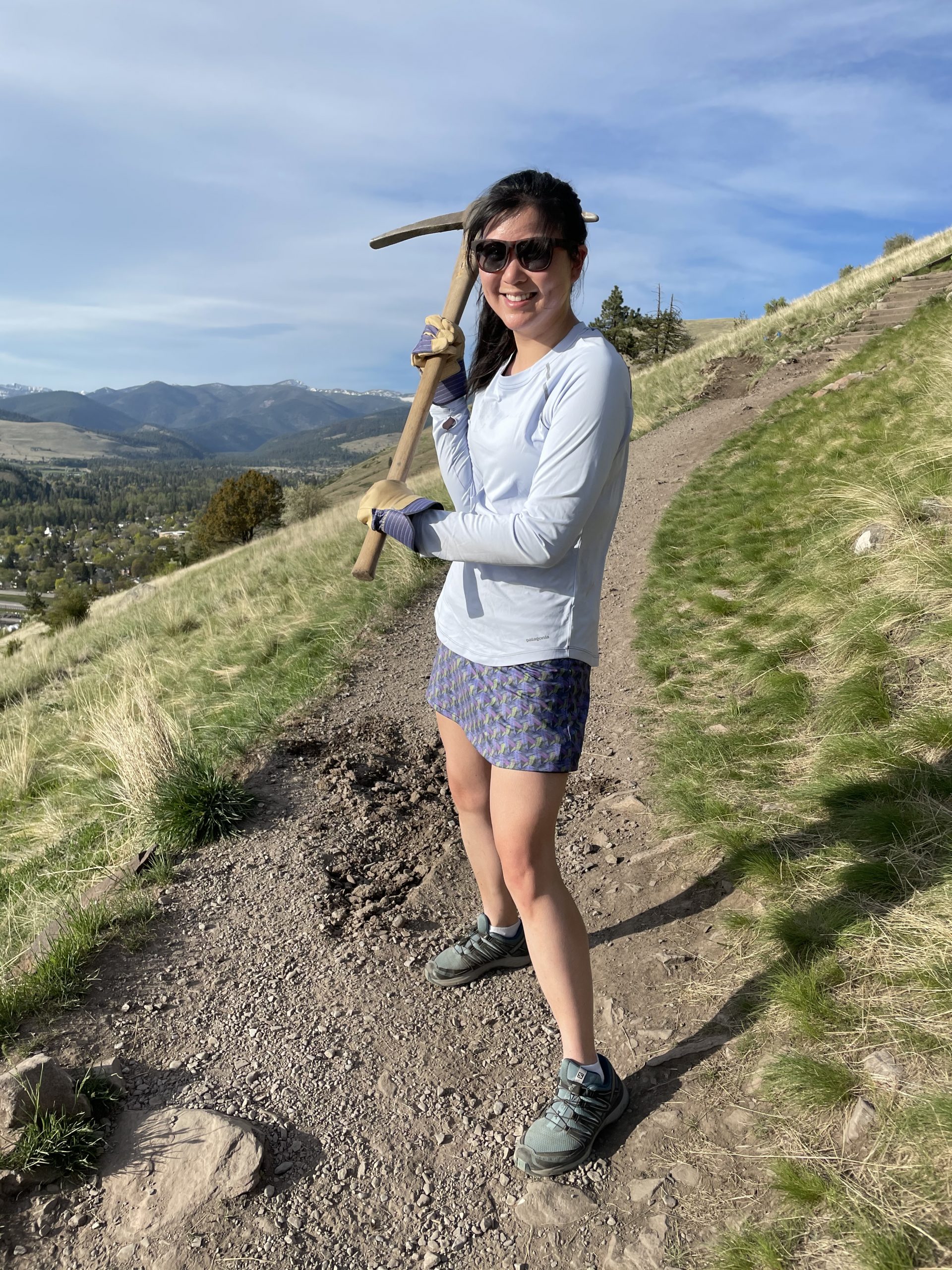 This month's member spotlight features Joanna Unruh. Joanna is a newer member of Run Wild Missoula and a first-time participant in one of our Spring Trail Sessions. She, along with her husband and two daughters, relocated to Missoula in 2020 from Boulder, CO.
Growing up in NYC, Joanna took an interest in the arts. She graduated from Bryn Mawr College in Pennsylvania with a degree in Art History, which led her to Houston where she worked at the Museum of Fine Arts. After two years in Texas, Joanna returned to the East Coast to get her Master's in Library and Information Science at Simmons College. After completing her masters, Joanna moved to Boulder, CO, where she worked as a grant officer at University of Colorado Boulder. This is where Joanna met her now husband, who grew up in Missoula, and started a family.
Joanna didn't grow up running, but after a tough breakup in 2009, she signed up for a Jingle Bell 5K on a whim. Much to her surprise, she really enjoyed it. She was living in Cambridge, Massachusetts at the time, and her regular running route meandered alongside the Charles River. She ran regularly for the next seven years. Over a decade later, her family relocated to Missoula and Joanna discovered RWM during her search for fun ways to get involved with the community. Recently, she saw our post on Instagram about the Trail Running Sessions and decided to take the plunge after a running hiatus. Similar to what many parents experience, exercise fell by the wayside after having two kids and stints of exercise waxed and waned.
If there was one thing Joanna would pass on to new parents, it's this: make sure you regularly schedule free time for yourself to recharge and stay sane. Give yourself permission to not carry the guilt of leaving for a solo run or walk. Throughout the pandemic, Joanna's daughters have motivated her to stay active. Not only does she want to be a good role model for them, she wants to show them that being active is fun and that there is life outside of parenting.
Now that her daughters are old enough, Joanna has more time to devote to running and biking. The simplicity of running out of her backdoor has given her the freedom to explore and find her bearings around our trail system. Running has given Joanna the space and time for herself. It is personal time that she doesn't have to share or devote to anyone else. Right now, Joanna's enjoying the act of movement and the balance of creating that space for herself. She enjoys the exploration part of running, but also loves her usual loop around the North Hills. She's eyeing a few potential races later in the year like the Bitterroot Runoff or the Elk Ramble.
With summer right around the corner, Joanna and her family have some fun trips planned to the Oregon Coast and Fairmont Hot Springs, where one of her daughters has been plotting their return trip. When Joanna isn't hitting the trails on foot or bike, she enjoys cooking, baking, grocery shopping, gardening, spending time with family and taking care of their many houseplants. Joanna is also eager to get involved with the new Missoula Public Library when it opens!