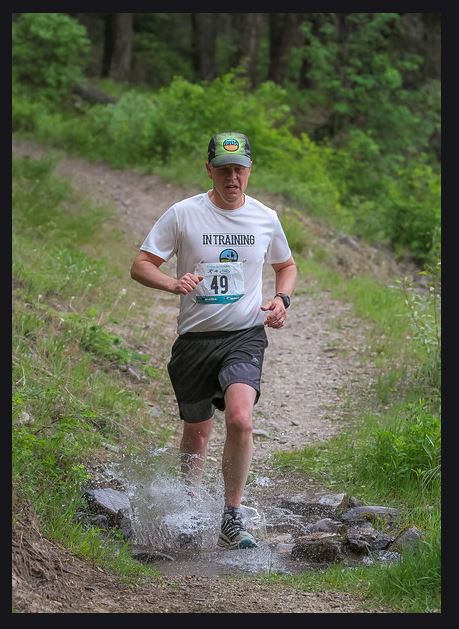 This month's member spotlight features Jay Brooker. Jay has been a member of Run Wild Missoula since 2010 and an integral part of the running community ever since. He's participated in many of our training classes and events over the years. Aside from being an avid participant, Jay also lends a helping hand at many of the Run Wild Missoula events. Chances are that you've crossed paths with him at some point!
Jay grew up in Duluth, MN and made his way west after graduating from the University of Iowa. His brother, Tim, was living in Montana at the time and Jay landed here for a short stint to explore. He ended up working for Tim in Plains,MT and as the story goes for most of us, he sort of fell in love with Montana and stayed. He spent a number of years in Bozeman, pursuing a post-bac and working before his job with the Department of Agriculture took him to White Sulphur Springs to focus on a soil survey. After 10 years residing there, Jay landed another position within the Department of Agriculture, now known as the Natural Resources Conservation Service, in Missoula in 2010.
Upon Jay's return to Missoula, he vowed to himself that he would fully take advantage of all things that weren't as prevalent in a smaller town, such as the vibrant running/walking community. This is what brought him to Run Wild Missoula that same year. He joined the Club in 2010 when his now wife, Sally, was in the Boston Training Class gearing up for the Boston Marathon. He too joined the class and started to get more involved with Club events after that. He has since gone on to take advantage of several other training classes that Run Wild Missoula has offered over the years.
Running is something that has always felt familiar for Jay. Growing up, he was an avid runner in high school as a track and cross country athlete. He particularly took to long and middle distances. There are many ways in which running has intersected with other aspects of Jay's life beyond just movement. It has helped him find common ground with others, especially in non-exercise related environments like work, it's a great stress reliever, it provides fitness, and creates the space for community. Through the community aspect of running, Jay has been able to explore other areas that he wouldn't otherwise check out and provides the space to interact with various age groups. He enjoys the encouragement side of running communities as well and carves out time to volunteer for different running events.
The simplicity of running motivated Jay throughout the last year. With the social limitations and closures, Jay found himself spending more time outside. Like many of us who find signing up for a race as something to look forward to, Jay signed up for a marathon for the first time in 30 years, the Missoula Marathon. Regardless of whether it was set to happen or not, training has helped him get out of the door even on the days when motivation was lagging. He's currently participating in the Spring Road Training Class to help him prepare for the marathon and it has helped bring some structure to his training plan. Jay's storied relationship with marathons goes back to Minnesota. He ran Grandma's Marathon in Duluth, MN three times in his 20's, which is a short distance from his childhood home so it became a family event. However, the last time he ran it made him swear off marathons for some time. However during his 26.2 hiatus, he filled his love for running with other distances including an annual Bloomsday Run with his brother and a mix of roads and trails.
Outside of running, Jay spends much of his time outside. He enjoys floating, fishing, traveling, skiing and lately a bit of gardening. He and Sally recently bought a trailer and are eager to explore some more of our wild backyard in Montana this summer. They've also got a Smith River permit planned for July in addition to a few trips up to the Flathead. Jay's got an annual trip that he does with some friends from high school that's 12-13 years in the running. While they normally head up to Canada for some fishing and camping, they've settled on a trip to the Boundary Waters in Minnesota this year.