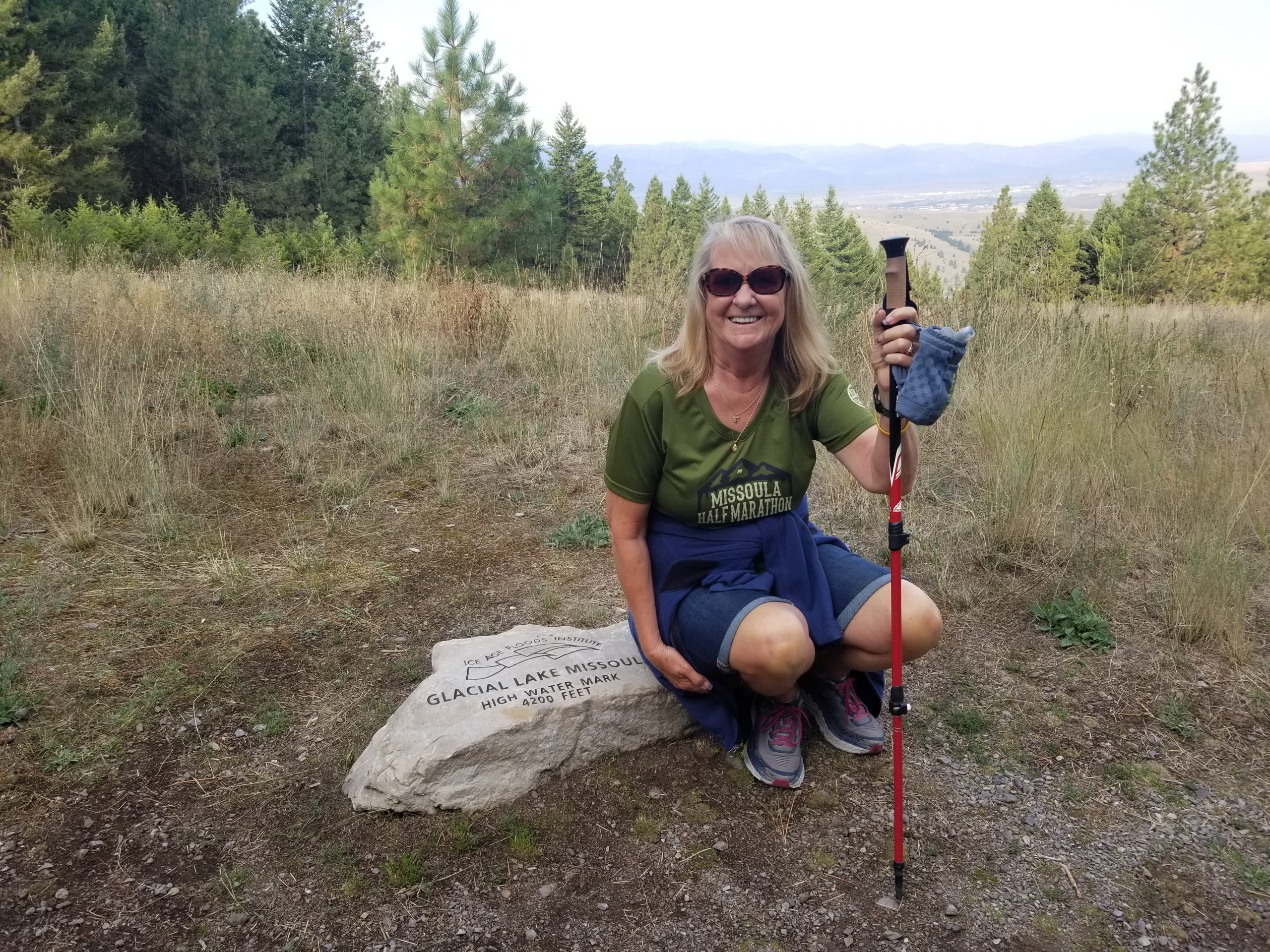 This month's member spotlight features Ginny Elkins. Ginny was born and raised in Missoula. Even though she is not a huckleberry aficionado, her roots run deep in Montana. She joined Run Wild Missoula in November of 2017 and the Club has played an integral role in her life ever since. When Ginny is not participating in local events, she is helping out behind the scenes to ensure local running and walking events run smoothly.
Growing up, she did not spend a lot of time doing outdoor activities nor did she feel like an outdoors person. For some people, running and walking finds them but for Ginny, she found walking and running. She introduced herself to the activities following an illness, recognizing that she needed to make some lifestyle changes. Ginny became more involved when she realized that she did not necessarily have to run, but rather there are many different forms of movement within running and walking that could meet her where she was. She discovered different methods of interval running. From there, the doors flew open with empowerment and community.
She started out doing walks with Parks and Recreation until long time member, Teresa Gabriel, invited her to join the Tuesday/Thursday Buddy Runs. After that, Ginny found the Galloway Group which spurred her interest in interval training. More importantly, she found some amazing community through the Club which has kept her coming back. For Ginny, running and walking are ways to connect with others, get outside, explore, and stay healthy. Shortly after joining Run Wild Missoula in 2017 and with some motivation from her cousin, Carol, Ginny completed the Light the Way 5K with her family. She has gone on to complete several other events with Run Wild Missoula and Runner's Edge. While every race is an accomplishment, Ginny is particularly proud of her 2019 Missoula Half Marathon finish. Not only is she proud of completing her first half marathon, but she was also amazed by how much the city of Missoula shows up year after year for this weekend of events.
Despite the hardships over the last year with gathering and events, Ginny pushed herself to stay active. The support from her family, and in particular her son, Scott, was imperative in keeping Ginny going over the last year. In fact, she found other ways to connect through online platforms. She is enjoyed the virtual community around the Missoula Marathon and the encouragement from others as they complete their distances both near and far. Similarly, she joined the Run the Year group which is a national online group committed to working towards a collective goal of 2,021 miles this calendar year. Aside from this being a fun goal for the year, it also comes with a supportive community that is empowering everyone to complete their mileage as they go.
Volunteerism plays a big role in Ginny's passion for running and walking. She devotes a lot of her time to helping at running events in Missoula. She enjoys helping others reach their goals and finds that it is a great way to meet others in the community. She knows firsthand all the work that goes into putting on an event and enjoys being part of a team to get things done.
Ginny spends her free time up at Seeley Lake in the summers. For the last 40 years, Seeley Lake has become a second home and sort of gathering place for her family to spend time together. She also enjoys supporting her two grandsons as they pursue track and rodeo.