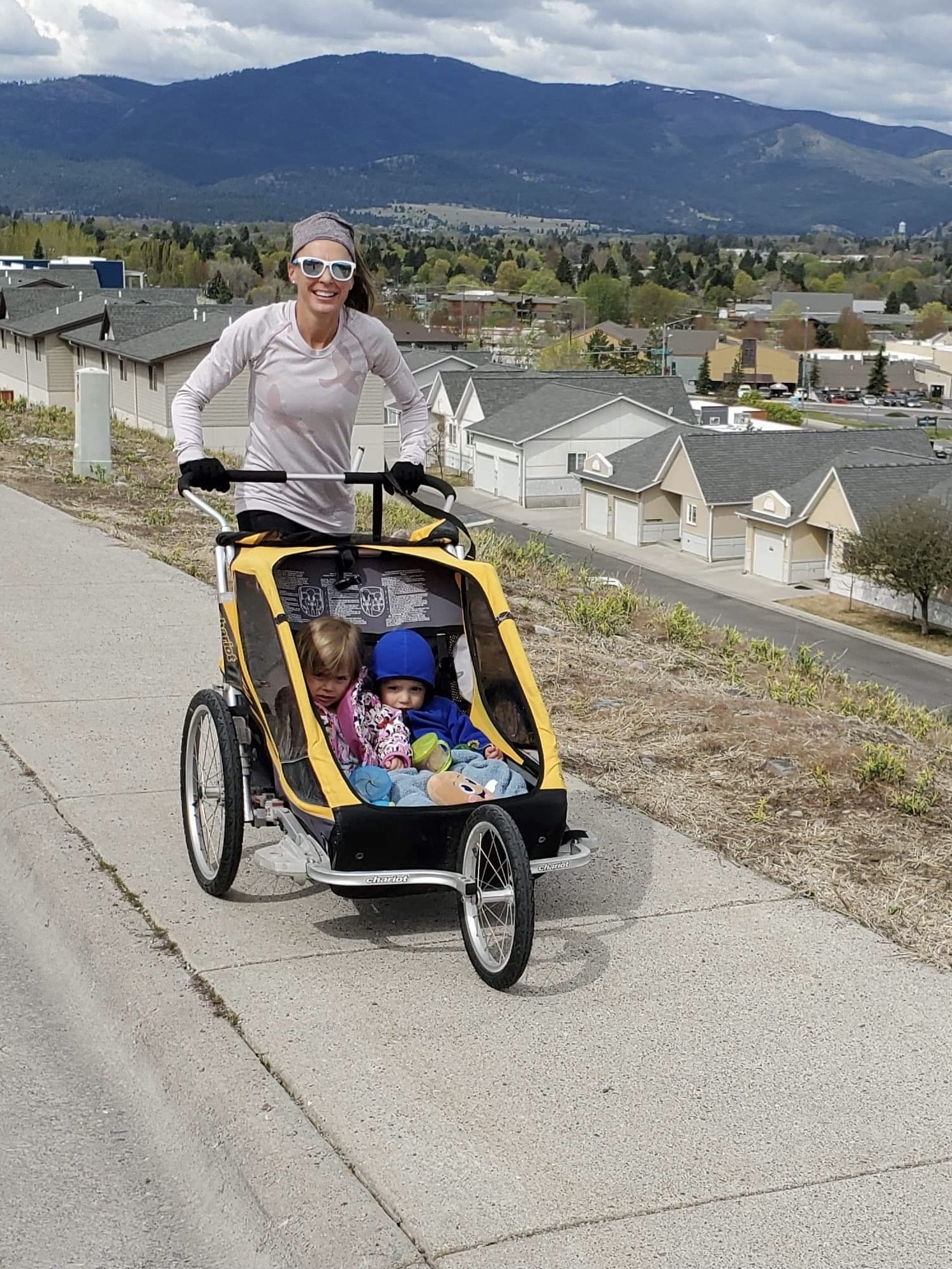 This month's member spotlight features Run Wild Missoula's newly minted Executive Director, Trisha Drobeck. Trisha has been a long time member of Run Wild Missoula, participating in both classes and races over the years. Although her path to running came later in life, she has won the beloved Missoula Marathon four times and set the still standing course record in 2015.
Trisha was born and raised In Portland, Oregon. She found her way to Montana as a college freshman where she majored in journalism with a print emphasis. She was drawn to journalism because of its all encompassing nature that blended many subjects. After graduating, she moved to Bend, Oregon where she worked in publishing for two years. Although the demands were high at this small publication company, Trisha also waited tables to make ends meet. After a few years in Oregon, she started to miss her Montana home and made her way back to Missoula and began her career in sales.
Similar to most of us, Trisha's path to a passion for running has not been linear. Her running journey is full of prioritizing other sports, cotton chafing, and training mishaps. She grew up playing soccer, ski racing, and dancing. She did track for a year in high school, but it was mostly to hang out with friends. Trisha's lust for running really did not evolve until after college when a friend convinced her to train for a marathon. She was completely new to the world of marathoning, not knowing anything about the distance or culture of marathon running. Her mom bought her Hal Higdon's book Marathon which outlined training plans that guided her through this new journey. Wide eyed to the world of training, she happily trained in cotton and opted for free range skittles in her pockets rather than gels. In hindsight, the skittles probably could have used a bag after they turned her pockets into a sticky rainbow. After completing most of her training in Missoula, she invested in some non-cotton running gear and headed to Portland to toe the line of her first ever marathon. This sparked Trisha's love for running, which eventually took her to the Marathon Olympic trials in 2016. Inspired by Trisha's running accomplishments, her mom started running at age 60 and has gone on to run a few half marathons.
One of her most memorable running experiences was at the Marathon Olympic Trials. She was nervously warming up in the streets of LA with a sea of strangers, when she heard a familiar voice. It was Tony Banovich, yelling her name and cheering her on. The relief of seeing someone she knew assuaged her nerves. After completing her first lap, she saw all of her friends and family in matching shirts with signs on the street corner. Their encouragement kept her going through every lap. Aside from the hype of being at the trials, it was incredibly special to have so many friendly faces in her corner that day!
Like all things in life that ebb and flow, running is no different. Some seasons you're really feeling it and other seasons maybe you're just doing the bare minimum, if anything at all. This concept is no stranger to Trisha, whose relationship with running has fluctuated since starting a family. Running has taken a backseat to her two young kids, Micah and Maisie.. Her Family is the most important thing in her life right now. As for running, it is still important to Trisha, but now it is all about balance. She tries to slip in an hour of running almost every day if she can for her physical and mental wellbeing. The ancillary aspects related to running have certainly waned as she maximizes the time she does have to get a run in.
The last year and a half have been particularly insightful for Trisha. She spent more time at home with her kids and got to relish all of the little moments with them. This illuminated what is important to her and what she wants. On top of that, throughout the last year with the pandemic and social unrest, it created the perfect storm for her to reflect on the imprint she wants to leave on her children, community, and world. She decided that she wanted to do more for her community and it became increasingly important for her to do something that made a difference. The following spring when Run Wild Missoula flew the Executive Director position, Trisha did what felt familiar; she went for a run and decided to apply. Now on the other side of that hiring process, she's excited to get more familiar with our membership and all of the wonderful people that comprise it, experience the Missoula Marathon from the Race Director's seat, and meet people where they are in their walking or running journey. She also anxiously awaits making Ashley and Sally listen to 80's music all day in the office followed by some spontaneous karaoke.
When Trisha is not running or working, she is spending quality time with her family around town and eating a lot of ice cream. Trisha is set to start at Run Wild Missoula on September 7th. If you see her around town, please give her a warm welcome. We are excited to have Trisha as part of our Run Wild Missoula family!